politics
Mnuchin Seeks Greater Scrutiny of Chinese Investments in U.S.
By
Russia, Iran, North Korea also targeted for greater review

Treasury secretary has discussed approach with Congress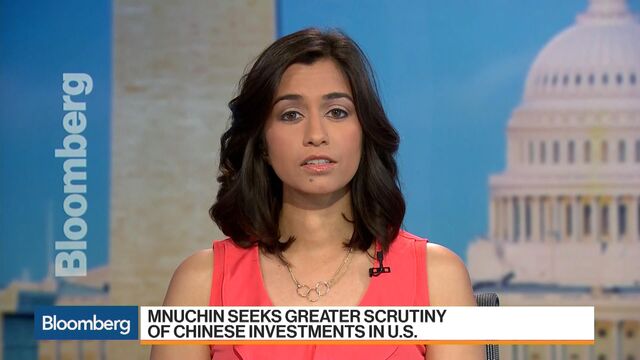 The U.S. Treasury Department wants to include China among a proposed group of hostile nations whose companies would undergo extra scrutiny for national security risks if they seek to buy stakes in American corporations, according to an administration official.
Russian, Iranian and North Korean firms would also be subject to more extensive review by a panel called the Committee on Foreign Investments in the United States if they seek to merge, acquire or participate in joint ventures with American companies, said the official, who requested anonymity because the proposal isn't final.
Treasury Secretary Steven Mnuchin is pursuing the changes to sharpen the panel's national security focus and he has discussed the approach with members of Congress, and Senator John Cornyn, a Texas Republican, is writing legislation to strengthen CFIUS, a congressional aide said.
The move could complicate an already tenuous relationship between the U.S. and China. President Donald Trump has dialed back his campaign rhetoric against China since taking office as he has sought its help to curb North Korea's nuclear weapons program. But the nations are redefining their trade relationship as the Trump administration seeks to reduce the U.S. trade deficit by increasing exports.
"CFIUS does a lot and there's a lot of tools we have -- there are certain things where it could be expanded slightly and Congress is working on certain changes -- but I think it gives us a lot of protections, and again this isn't about targeting any one country from not investing here," Mnuchin said in a May 1 interview.
Tiered System
Mnuchin chairs the foreign investments committee, and he's interested in creating a tiered system under which companies in countries posing greater national security threats take precedent over other nations, the administration official said. Investments from countries on the list in American technology and semiconductor firms, nuclear businesses and other critical infrastructure would receive extra scrutiny, according to the person.
Robert Pittenger, a North Carolina Republican, will introduce companion legislation in the House with Cornyn, according to a second congressional aide. Defense Secretary Jim Mattis is also working with Congress on strengthening CFIUS' purview, the aide said.
Cornyn's legislation would require CFIUS to create a list of countries whose companies merit extra scrutiny, such as China, a spokeswoman said. The bill would also broaden the scope of the committee to include technology joint ventures and real estate transactions near military bases or other national security facilities, she said.
A Treasury Department spokesman declined to comment due to the confidential nature of CFIUS-related matters. The White House didn't respond to requests for comment.
Read more: Mnuchin's foreign takeover weapon gives leverage over China
China has expressed interest in U.S. nuclear businesses, semiconductor and technology firms that could expose American military intellectual property and other critical infrastructure. The Trump administration in April was so alarmed that Chinese investors may purchase Westinghouse Electric Co.'s nuclear businesses that officials sought an American or allied buyer for the bankrupt company's nuclear unit.
Deals Killed
Trump has already struck down several deals via CFIUS, Mnuchin said in a hearing this week, declining to offer further details because the process is confidential. The committee, which includes the secretaries of the Treasury, Energy, Defense, State and Commerce departments, can impose changes to transactions or, in rare cases, recommend to the president that they be blocked. CFIUS has a maximum 75 days to complete its reviews.
The panel relies on companies to voluntarily notify CFIUS for a review when carrying out a transactions, though in rare cases it can study a deal after its completed.
Congress expressed bipartisan concerns about CFIUS review of Chinese investment in the U.S. for more than a year. Chinese companies have sought controlling stakes in critical U.S. infrastructure such as railroads, semiconductor and technology firms that could compromise U.S. military operations, in addition to their strong interest in nuclear businesses.
Lawmakers and the Trump administration have also expressed concern that companies with hidden backing by the Chinese government could make U.S. investments or enter into joint ventures with U.S. companies while dodging CFIUS scrutiny.
Before it's here, it's on the Bloomberg Terminal.
LEARN MORE