economics
Merkel Expects U.K. to Stick to Brexit Timetable
By and
German foreign minister says not too late to reverse EU exit

Gabriel joins Schaeuble, Macron in post-election comments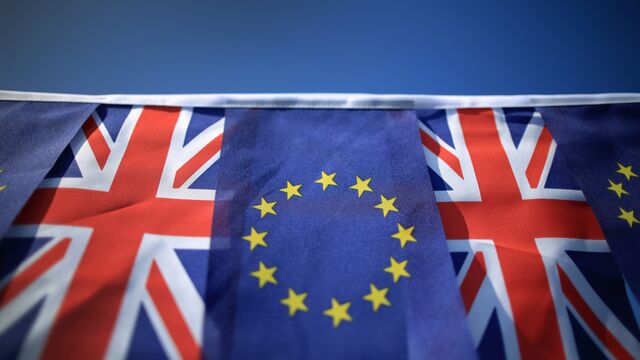 German Chancellor Angela Merkel signaled that she expects the U.K. will stick to its Brexit timetable, while her deputy said the European Union's door remains open.
Foreign Minister Sigmar Gabriel, who also is Germany's vice chancellor, became the latest politician to play on Prime Minister Theresa May's loss of her parliamentary majority to suggest that Britain might reverse its decision to leave the EU. He was echoing remarks by Finance Minister Wolfgang Schaeuble in a Bloomberg interview and a similar comment by French President Emmanuel Macron.

Britons now must decide "whether they want this door to be wide open again or whether, after making such a decision, they say, 'Let's consider how we can use some portions of this openness, but others perhaps not.'" Gabriel told reporters alongside Merkel late Wednesday.
The chancellor, who was hosting an event with labor and business leaders near Berlin, refused to be drawn in. "I don't want to participate in any speculation -- and certainly not on speculation over whether the U.K.'s exit takes place or not," Merkel said, citing May's statement in Paris on Tuesday that she intends to stick to her timetable.
"We're going with what the British side says," Merkel told reporters.
May is in a political predicament after her Conservatives lost their governing majority in the U.K.'s general election on June 8, leaving her seeking a deal with Northern Ireland's Democratic Unionists. The talks are dragging on as pressure mounts for a cross-party consensus on Brexit.
May's administration triggered the two-year exit process on March 29.
Schaeuble said in the interview on Tuesday that he respects Britain's vote in favor of Brexit. While it's "not very likely" that the government will overturn the referendum decision, "if they wanted to change their decision, of course, they would find open doors," he said.
Before it's here, it's on the Bloomberg Terminal.
LEARN MORE