politics
Lawmakers' Security Concerns Were Rising Even Before Scalise Shooting
By
No. 3 House Republican shot at baseball practice had guards

Most rank-and-file members don't have security personnel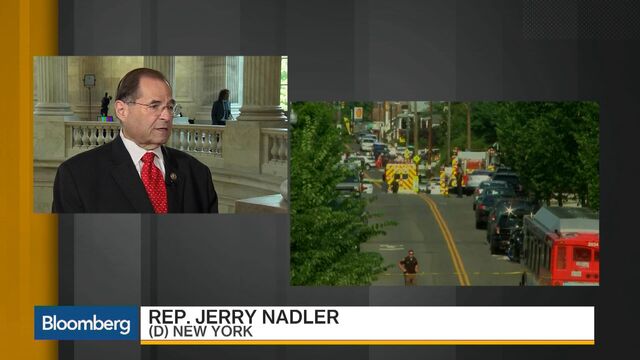 The adequacy of security measures to protect members of Congress is drawing renewed scrutiny after Wednesday's shooting that wounded a top Republican lawmaker.
Several Capitol Police officers were at the congressional baseball team practice in Alexandria, Virginia, a Washington suburb, when the shooting started and helped take down the suspect. But the officers were mostly there because Representative Steve Scalise of Louisiana, the No. 3 Republican in the House, plays second base for his party's team.
"The only reason they were there was because we had a member of leadership on our team," Republican Senator Rand Paul of Kentucky told MSNBC. "By him being there, he probably saved everybody else's life, because if you don't have a leadership person there, there would have been no security there."
Rank-and-file members generally aren't accompanied by the Capitol Police, whose mission is to protect Congress.
Increasing Concern
Even before Wednesday's shootings, there has been rising concern among members amid threats and anger at town hall meetings over a number of issues, including the debate over repealing Obamacare. House and Senate officials in recent months have been focusing on increasing security for all members.
Republican Representative Martha McSally of Arizona recounted Wednesday how she received several death threats about a month ago.
"I feel like in an environment like this, it was only a matter of time," she said, adding, "The enemy is out there. The enemy is now here among us."
Several lawmakers said they expect Wednesday's shooting will result in more police protection.
Representative Steve Womack of Arkansas told reporters it's "common sense" that large groups of lawmakers shouldn't be at well-known locations without adequate protection.  Representative Dave Brat of Virginia said Congress should consider increasing security at off-campus events and making it easier for lawmakers to carry guns to protect themselves.
Representative Ruben Gallego, a Democrat from Arizona, said lawmakers discussed in a private meeting Wednesday whether to allow the use of campaign money for security costs at their homes and increase their budgets to move their district offices into secure buildings, such as courthouses.
"People were also taking about a lot of the death threats that we are getting," Gallego told reporters after the meeting.
The House sergeant-at-arms, Paul Irving, has already been seeking more money -- at least $2 million -- to increase security for members while away from the Capitol in their district offices or elsewhere in their home districts, said an official with knowledge of the effort.
At the Capitol building itself, a number of new and ongoing security efforts are under way.
Giffords Shooting
A similar push to beef up member security in their home districts occurred in 2011 after former Representative Gabrielle Giffords of Arizona was critically wounded by a lone shooter at a public "Congress on Your Corner" event in her district.
Some lawmakers this year have cited security concerns for not holding town halls.
Representative Dave Reichert of Washington, a former sheriff, made news in February by telling colleagues during a closed-door House Republican conference that they should make sure to take precautions for themselves and staffers against potential threats.
"Threats are nothing new to me and I have gotten my share as a felony judge," Representative Louie Gohmert of Texas told constituents in a letter in February, explaining why he wasn't hosting in-person town halls. 
In his case, Gohmert complained about "more violent strains of the leftist ideology."
Giffords has been active in pushing for more gun control legislation from Congress.
— With assistance by Anna Edgerton, Terrence Dopp, Arit John, and Erik Wasson
Before it's here, it's on the Bloomberg Terminal.
LEARN MORE