The Kremlin Worries Putin's Call-In Show Will Focus on Pensions, Not Politics
By
Putin's annual 'Direct Line' with Russians set for Thursday

International issues, politics not top priority, Kremlin says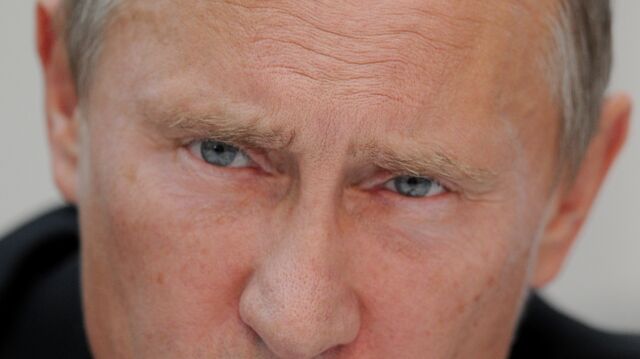 Vladimir Putin has spent much of the last two days preparing for his annual "direct line" call-in show with his constituents, but the vast majority of the more than 1.6 million questions collected in advance just aren't up to the Russian president's level.
"Sadly, most of the questions, as in the past, are of the kind local authorities can and should deal with," Kremlin spokesman Dmitry Peskov told reporters on a conference call Wednesday. That Russians think it's easier to try to reach the country's paramount leader than to get the attention of officials closer to home is "rather painful" for the Kremlin, he added.
The marathon event has become an almost annual ritual for Putin since he first held it in 2001, with live state-TV satellite links to carefully selected groups of "ordinary Russians" around the country. This year's audience will include "civic activists and the heroes of reports on channels 1 and 2" -- the main state-TV outlets -- Peskov said.
Participants were warned not to drink alcohol the night before and to avoid checkered or striped clothing on the day of the show, the RBC news website reported.
Local Focus
The Kremlin has been collecting questions for days online and through phone banks. Top global stories like Donald Trump, the conflict in Ukraine and the war in Syria don't make it to the top ranks, according to Peskov. After two years of recession, callers are more focused on pensions and other pocketbook issues, he said.
Last year, with recovery still a ways off, Putin assured listeners, "we have ground for optimism." This year, the government says the economy could grow as much as 2 percent.
Falling living standards have contributed to public discontent that's spilled out into the streets of cities across the country in recent months in the biggest anti-Kremlin protests in five years. Those rallies have gotten little or no coverage on state media, however. In the past, Putin has been dismissive of Alexey Navalny, the opposition leader who organized them. This week, Navalny got a 30-day prison sentence for his role in protests held Monday.
Navalny aims to run in the March 2018 presidential elections, although officials have said he's not eligible because of criminal convictions he's called politically motivated. Putin hasn't yet confirmed he'll run for another six-year term, although the Kremlin is already actively preparing his campaign. He's not expected to make any announcement Thursday, TV Rain reported.
— With assistance by Olga Tanas, and Ilya Arkhipov
Before it's here, it's on the Bloomberg Terminal.
LEARN MORE