Kazakhs Aren't Done Paying to Fix Banks After Biggest Rescue
By
Governor says 500 billion tenge needed to recapitalize lenders

Kazakhstan has 1 to 2 years to resuscitate banks, Akishev says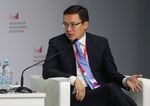 Kazakhstan is running out of time to get the banking system back on its feet.
Even after undertaking its biggest rescue since the 2009 global credit squeeze with a 2.4 trillion-tenge ($7.6 billion) bailout of Kazkommertsbank, the rest of the nation's lenders will require at least 500 billion tenge more to mend balance sheets, according to National Bank of Kazakhstan Governor Daniyar Akishev. But the state aid will come with strings attached.
"We must still understand how much of that sum the central bank will give as subordinated loans to lenders," Akishev, 41, said in an interview in Almaty. "Maybe we can do it together with shareholders, maybe the whole amount will come from the central bank, with additional capital injections from shareholders."
Crippled by a decade of defaults, debt restructurings and bailouts, banks remain a key stumbling block for the economy following its worst performance since 1998. As the Central Asian nation tries to showcase its prospects at the World Expo this summer in the capital, Astana, it's rolling out measures in response to the issues identified by the regulator as part of its program to restore lenders to health. Kazakhstan has no more than one to two years to heal the industry, according to Akishev.
"The faster, the better," he said. "We simply don't have more time."
Fixing Banks
Appointed in November 2015 after the tenge slumped by more than 40 percent against the dollar when oil prices crashed, Akishev is now focusing squarely on how to break through the financial bottlenecks that hinder investment. The funds allocated for Kazkommertsbank will be used to shift bad loans off its balance sheet to pave the way for a possible takeover by its top rival, Halyk Bank.
The challenge now is to find the right remedy to pull the rest of the industry along. The central bank said in April that a program designed to help lenders other than Kazkommertsbank will be open for those with more than 45 billion tenge in capital, while shareholders are obliged to add money within a few years.
"We are calibrating the conditions now, hoping to finish talks with lenders' shareholders soon, so as to approve the program this month and start it in July," Akishev said. "We won't give cash. One of the ideas is to give state debt, which banks will be able to use initially as collateral in repurchase operations with the central bank, so there will be no possibility to put that money into the currency market."
If shareholders fail to comply with the terms, subordinated loans will be converted into equity, he said.
'In Reality'
"We need to have a financial sector freed of the problems of the past, not just on paper but in reality," Akishev said. That means "recapitalization and an actual writedown of losses."
Once described as a "world champion" in the concentration of non-performing loans, Kazakhstan is still digging out from under the financial ruins of the 2007-2009 economic crisis. The authorities had to tap $10 billion from the nation's oil fund to bail out banks, which later restructured about $20 billion of debt. Bad loans still accounted for as much as a third of the total last year, according to S&P Global Ratings.
After supporting Kazkommertsbank's liquidity with an emergency facility last year, the regulator recently lent 150 billion tenge to Bank RBK and 80 billion tenge to Qazaq Bank, which had announced plans to merge, according to Akishev. This month, Bank RBK and Qazaq Bank will need to pay back 63 billion tenge and 60 billion tenge, respectively, in "special" short-term credit, he said.
More Competition
The clock is ticking for Kazakh banks as the nation prepares to allow greater access to foreign lenders from 2020 as part of its commitments to the World Trade Organization, Akishev said. In addition, growing integration among some former Soviet states as part of the Russia-led Eurasian Economic Union will put an additional squeeze on the Kazakh industry.
"The faster we create a competitive sector, the more confidence we'll have in ensuring the presence of domestic capital."
Meanwhile, Kazakhstan wants to kick-start the economy after growth in the world's top miner of uranium and the biggest energy exporter in central Asia reached just 1 percent last year. President Nursultan Nazarbayev has demanded a return to annual gains of 5 percent in gross domestic product over the following decade.
Lending needs to increase at a pace no slower than nominal growth of the economy, Akishev said, adding that Kazakhstan must deliver on goals sets by the president.
"He said lending to the economy must be restored, and we responded -- Yes, sir!" he said. "But I'm a proponent of executing this order primarily by way of creating a sustainable funding base, a sustainable sector."
Before it's here, it's on the Bloomberg Terminal.
LEARN MORE