Home Capital Naysayers Squeezed as Cost of Shorting Surges
By
Short sellers charged almost 100% rate for bearish bets

Mortgage lender's stock has plunged amid OSC allegations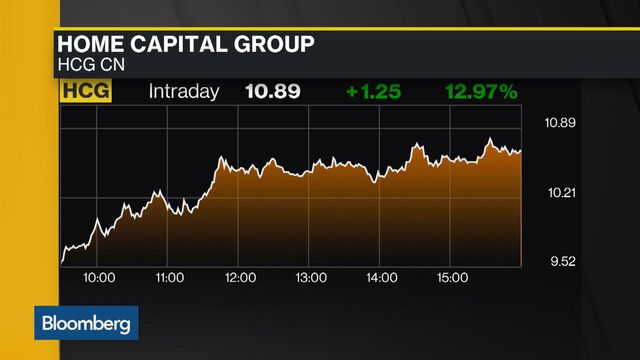 Home Capital Group Inc.'s stock has crumbled this year after a regulator alleged executives at the alternative-mortgage lender misled investors, so you might expect short sellers would be pouncing on the Canadian stock. 
But bets against it have plunged in recent weeks as the bearish arguments slammed into a wall of economic reality: the Toronto-based company is probably too costly to short.
Short sellers must first borrow shares to sell before they can initiate their bets against a company. For Home Capital, the annual interest rate for completing this crucial step has surged to almost 100 percent, according to S3 Partners, a financial-analytics firm. Marc Cohodes said his shorting cost was only about 10 percent just before a securities regulator accused the company and its directors of misleading shareholders about mortgage fraud in April.
"The fact that the short interest is down so much is a sign that people covered, but it has nothing to do with the fundamental flaws at this company," Cohodes, a San Francisco-based investor who's been betting against the lender for over two years, said by phone Monday. "They just can't get back in. There are no shares to borrow. People who covered can't find or afford shares to re-short."
A Zero?
Cohodes said he's still shorting Home Capital, despite the higher cost. It's worth it because the shares are "going to go down to zero," he said.
Home Capital declined to comment through external spokesman Boyd Erman.
Shares of Home Capital, which provides mortgages to borrowers who've been turned away from more traditional banks, such new immigrants and the self-employed, peaked this year at C$31.85 in January. The stock went into a tailspin, falling as low as C$5.85, after the Ontario Securities Commission said on April 19 that the company, its former chief executive officer and other directors misled investors and didn't properly disclose information, chiefly about brokers submitting loan documents with falsified client income. Home Capital clients pulled capital from their high-interest savings accounts amid the crisis.
The shares have recovered somewhat, rebounding above C$12 this week, amid reports that Home Capital has been approached by funds including Brookfield Asset Management Inc. and Onex Corp., and that the firm is working out a deal with regulators. The shares declined 3.8 percent to C$10.87 at 9:53 a.m. in Toronto Wednesday.
Borrowing costs for short sellers work like this: Say a trader wants to short C$10 million ($7.5 million) of shares. At a 100 percent interest rate, it would cost C$10 million to borrow those shares for a year. At 10 percent, it would be only C$1 million. As Home Capital's cost-to-borrow rate surged, the number of shares sold short has dwindled to the lowest level since July 2015, according to data compiled by IHS Markit Ltd.
One hedge fund manager, who asked to not be identified discussing trading strategies, said he covered his short position after the shares plunged 65 percent in one day on April 26. When he sought to re-enter the trade, his broker quoted him a price of 300 percent because there aren't many shares being loaned to short sellers.
Quotes from this Article
Before it's here, it's on the Bloomberg Terminal.
LEARN MORE