Harvard's President Says She Will Step Down in 2018
By
Faust led capital campaign that raised a record $8 billion

She helped endowment effort to bounce back from credit crisis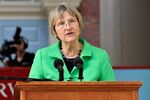 Drew Gilpin Faust, the first woman to lead Harvard University, will step down next June after an 11-year tenure marked by record fundraising and an effort to bounce back from the financial impact of the credit crisis, especially on its lagging endowment.
Faust, an author and Civil War historian, succeeded Larry Summers, an economist and former U.S. Treasury Secretary who resigned in 2006 following a series of controversies including comments about women's aptitude for science and engineering.
"It has been a privilege beyond words to work with all of you to lead Harvard," Faust said in a statement Wednesday. "I am deeply grateful to every member of this community."
Financed Expansion
Faust presided over a capital campaign that has raised more than $8 billion for Harvard, the nation's wealthiest and oldest university, which was founded in 1636. The campaign was the largest to date in higher education and helped one of the world's preeminent research institutions finance an expansion of financial aid and a growing campus.
She also confronted financial difficulties, with the university's endowment losing almost 30 percent of its value in 2009 following the global credit crisis. Harvard has struggled to right the $36 billion fund since then, trailing peers such as Yale University in investment returns.
While Harvard is a global brand, Faust, 69, inherited an administration in turmoil after the tumultuous tenure of Summers, a former U.S. Treasury Secretary who clashed with faculty. Faust, the former head of the Radcliffe Institute for Advanced Study, an interdisciplinary center at Harvard, had never led a university before and was seen as a listener who would help bring people back together.
'Toughest Job'
"Drew made the toughest job in higher education look easy," said Lawrence Bacow, the former president of Tufts University who joined Harvard's board during Faust's tenure. "She made substantial progress in making a notoriously fractious university function as one institution. She also instituted changes in governance that will have profound and positive effects for generations to come."
One of Faust's first initiatives was to expand undergraduate financial aid, targeting lower and middle-income students as she sought to increase the diversity of the campus. The university said it spent $539 million on student aid in 2016, up from $339 million in 2007 when Faust took the helm. 
She also inherited an ambitious campus expansion that had been championed by Summers. Faced with steep investment losses, Faust delayed, then downsized construction in Boston, across the Charles River from the main campus in Cambridge, Massachusetts. A new master plan from 2013 includes innovation labs, residences and a science and engineering complex scheduled to open in 2020.
Campus Controversies
During her tenure, Faust waded into campus controversies In 2011, she brought Navy ROTC back to campus, reestablishing a military training unit that had been banned for decades in a legacy of the Vietnam War.
She is also still dealing with fallout from an effort to force same-sex student clubs to be open to both genders, a move that's been unpopular with some students, faculty and alumni. Citing a history of gender discrimination and risk of sexual assault, the university in 2016 sought to ban members of Harvard's elite all-male final clubs as well as all-female groups from holding school leadership roles and gaining endorsements for coveted fellowships.
"Drew is the quintessential principled leader," said Clayton Spencer, former vice president for policy at Harvard who now heads Bates College in Maine. "She starts with values and decisions follow."
— With assistance by Janet Lorin
Before it's here, it's on the Bloomberg Terminal.
LEARN MORE