Greece Set for Case `Full of Money,' No Detailed Debt Relief
By , , and
Euro-area finance ministers are meeting in Luxembourg Thursday

Ministers seen agreeing on aid, not on easing debt load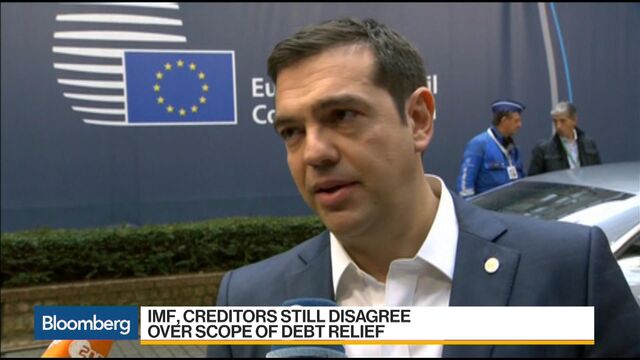 Euro-area finance ministers meeting in Luxembourg will seek to close a key chapter in Greece's bailout drama on Thursday, unlocking aid needed to end months of uncertainty while stopping short of a definitive deal to ease the country's debt load.
A resolution at the so-called Eurogroup meeting would free up an expected 8.5 billion euros ($9.5 billion) in cash the Aegean state needs to repay bonds maturing next month. However, the euro-area finance chiefs, including Greece's Euclid Tsakalotos, likely won't finalize details on how to give Greece breathing room on the future of its debt obligations, a situation the International Monetary Fund has called unmanageable in the long term.
"The time is right to conclude the second review and give a green light for the disbursement aimed to cover Greece's summer liquidity needs," Slovak Finance Minister Peter Kazimir said in an interview in Bratislava before the meeting. "I expect Euclid will leave Luxembourg with a briefcase full of money."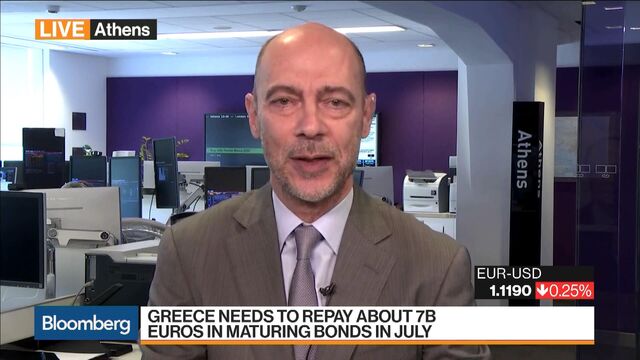 The IMF, which is mulling participation in the rescue program, has demanded more clarity on future relief measures to make the nation's 315 billion euros of obligations sustainable. While all the creditors say Greece has completed the necessary economic reforms to receive the next slice of aid, euro-area nations are reluctant to further ease repayment terms on bailout loans.
"Today will not be the meeting where we will take the final decisions on what size of debt relief is needed," Dutch Finance Minister Jeroen Dijsselbloem, who heads the Eurogroup, told reporters in Luxembourg. "We will give more clarity to Greece and to the IMF that's been asking for this kind of clarity, on how we will move forward, how we will calibrate debt relief needed next year."
While the final measures should only be decided and triggered at the end of the program in mid-2018, the IMF and Greek Prime Minister Alexis Tsipras have called for more details now to help discern the long-term path of Greece's debt sustainability. That would include an outline of any possible restructuring the euro area could undertake in the future.

Nations led by Germany insist on the IMF's involvement in the Greek bailout as a prerequisite for any additional aid. While the Washington-based fund participated in Greece's first two rescues, it has stayed out of the third 86 billion-euro program. The latest aid payout is expected to be 8.5 billion euros but that amount could change, according to two officials familiar with the matter who asked not to be named pending a final decision.
"We have found a way that will hopefully allow the IMF management to recommend a program to the IMF board," German Finance Minister Wolfgang Schaeuble said before the meeting. The fund's actual payment would come "at the end of the program," he said.
The main compromise being discussed would have the IMF agree to a new program but withhold funding until assured of Greece's debt sustainability. This would allow the fund to abide by its lending rules while also giving member states the cover they need to disburse more cash to Athens.
The meeting is "about finishing off the second review, nothing more," Kazimir said. "Don't expect any decision on debt measures. The IMF's cash participation isn't an urgent one, their expertise is."
To read about Greece inclusion in the ECB's QE program, click here
It's unlikely, however, that such a compromise with the IMF would make Greece eligible for the European Central Bank's quantitative easing program -- which would bolster bond prices and ease its return to the market -- a promise the government in Athens has been making for months. Such a move would be politically risky and a similar compromise was rejected last month.
EU officials said Greece shouldn't rely on participating in the ECB's quantitative easing program given that it was never a certainty and added that very few of its bonds are eligible for inclusion. They are also considering an enhanced aid payout to give Athens a buffer in case it wants to try tapping the public markets.
Emergency Summit
Meanwhile, following efforts by the French government to include a proposal to make debt relief contingent on Greece's growth performance, a few more safeguards are expected to be added to the final agreement, the officials said.
Despite movement toward a deal and a pressing need for an accord , the risk of failure is still present. Tsipras told his ministers that if an agreement isn't reached on Thursday he would seek a meeting of euro-area leaders to resolve the issue, according to a Greek government official who spoke on condition of anonymity.
— With assistance by Anne Van Der Schoot, Sotiris Nikas, Stephanie Bodoni, Marine Strauss, Mark Deen, Kevin Costelloe, Ian Wishart, and Nikos Chrysoloras
Before it's here, it's on the Bloomberg Terminal.
LEARN MORE