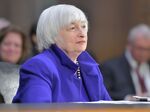 Forget the old philosophical question, if a tree falls in the woods and nobody is around to hear it, did it really make a sound? It should be, if the Federal Reserve raises interest rates and markets don't react, did they really tighten monetary policy?

Policy makers have now boosted rates four times since December 2015, to 1.25 percent from 0.25 percent, and yields on benchmark 10-year Treasury notes are lower now than when they started tightening policy. On top of that, financial conditions are looser now than any time since 2014. Although the central bank said Wednesday that it still plans to raise rates once more this year, the bond market is skeptical after data Wednesday showed that inflation continues to slow and retail sales remain stuck in stall speed. In defense of the Fed, policy makers are worried that the current low unemployment level could spark inflation at any moment, and they don't want to be behind that curve if that happens and be forced to raise rates at a much faster pace.



In fact, the Fed stuck to its rate outlook even though it also lowered its estimate for inflation this year to 1.6 percent from 1.9 percent -- both of which are below the central bank's target of 2 percent. Chair Janet Yellen suggested that the slowdown is more due to transitory items such as lower prices for wireless telephone services and prescription drugs than anything structural. Pricing in the bond market shows the probability of another rate hike by year-end has dropped to less than 40 percent from 60 percent in a matter of weeks. 

THE GREENBACK IS THE SICK MAN OF CURRENCIES
The big loser in all of this is the dollar, which is down this year against all 31 major currencies tracked by Bloomberg, except the Brazil real and Hong Kong dollar. Higher interest rates are normally good for a currency, but the dollar's performance suggest traders see little chance for any more increases this year -- at least as long as the turmoil in Washington distracts the Trump administration from implementing its pro-growth fiscal agenda. The Bloomberg Dollar Spot Index fell for a third straight day Wednesday and is down more than 6 percent this year. Mohamed El-Erian, Allianz SE's chief economic adviser and a Bloomberg View columnist, said he sees a risk that economy grows at less than a 2 percent rate. "The unknown is whether the technical work that's going on, in tax reform and infrastructure, will ever make it to Congress in a very constructive manner," El-Erian said Wednesday in an interview on Bloomberg Television. "The longer these distractions continue, the harder it is for Congress to get to economic governance."



THERE'S ACTUALLY DEFLATION IN THE OIL MARKET
Meanwhile in the oil market, the price of crude is doing its best to keep inflation under wraps. Oil fell below $45 a barrel to its lowest since November as government data showed that weaker demand at the start of the summer driving season led to another increase in gasoline stockpiles.  Gasoline inventories rose 2.1 million barrels last week, according to the Energy Information Administration. Adding to the market pessimism, the International Energy Agency said new production from OPEC's rivals will be more than enough to meet growth in demand next year, overwhelming the oil group's efforts to reduce supplies by cutting its own output, according to Bloomberg News' Meenal Vamburkar. "A gasoline inventory build is the last thing the bulls need," said John Kilduff, a partner at hedge fund Again Capital LLC. "It's really counter to what we should be seeing this time of year." Output at major American shale fields will reach a record in July, according to the EIA.


WILL THE REAL CHINA PLEASE STAND UP?
Investors' heads are spinning more than usual when it comes to China these days. The country's broadest measure of new credit slowed in May, as policy makers moved to contain excessive borrowing. In addition, a measure of the money supply increased at the slowest pace on record and the nation's yield curve has turned more negative in a classic sign that bond traders anticipate a significant slowing in economic growth. Yet, the International Monetary Fund raised its growth estimate for China for the second time this year, forecasting now that the world's second-largest economy will expand by 6.7 percent in 2017, up from a 6.6 percent estimate in April and 6.5 percent in January. It's a big week for China data. Just hours before the IMF boosted its outlook, reports showed industrial output steadied in May and the consumer remained a prop for growth, while a pull-back in property investment suggested curbs were starting to bite.



GRAIN MARKETS FACE `PERFECT STORM' AS WHEAT SOARS
Wheat has quietly staged a huge rally, as a prolonged dry spell has left the U.S. spring crop in its worst shape in almost three decades. Forty-five percent of the crop, the high-protein variety grown in northern states, was in good or excellent condition as of June 11, the U.S. Department of Agriculture said Monday. That's down 10 percentage points from the prior week and marks the worst rating for the time of year since 1988, according to Bloomberg News' Megan Durisin. Futures have surged more than 15 percent in the past month, outpacing the gains of all the 22 components of the Bloomberg Commodity Index. Spring wheat futures for July delivery reached $6.45 3/4 a bushel, the highest for a most-active contract since December 2014. The gains may not be over. Bloomberg Intelligence analysts said in a report Wednesday that the extreme disparity in rapidly increasing demand relative to supply, supported by surging exports and a weakening dollar, could signal a perfect storm in the grains.



TEA LEAVES
Next up, the Bank of England. Policy makers are widely expected to keep rates unchanged at 0.25 percent when they meet Thursday, especially after data Wednesday showed average earnings in the U.K. rose 1.7 percent in the three months through April, the slowest annual pace since early 2015. That means inflation is far outpacing wage growth, squeezing households' living standards. Given the turmoil in the U.K. politics, strategists at Credit Suisse wrote in a report that they forecast no rate hike before the end of 2018. In fact, they write that the discussion among policy makers could shift to "what more can the BOE do?" Governor Mark Carney will have to operate within an uncertain political climate with Brexit negotiations set to kick off in the wake of the shock election result that has weakened Prime Minister Theresa May's grip on power, according to Bloomberg News' Lucy Meakin.
If you'd like to get The Daily Prophet in e-mail form, right in your inbox, please subscribe to this link. Thanks!
DON'T MISS
Now Is When to Prepare for End of the Bull Market: Ben Carlson
U.S. Has the Ability to Spin Oil Market on Its Axis: Mark Grant
How the U.S. Economic Recovery Is Likely to End: Conor Sen
Short-Term Thinking Hasn't Hurt Companies Long Term: Noah Smith

The U.S. Doesn't Have a National Electricity Market: Justin Fox

Before it's here, it's on the Bloomberg Terminal.
LEARN MORE