Balance of Power: Germany Rules the Roost
By and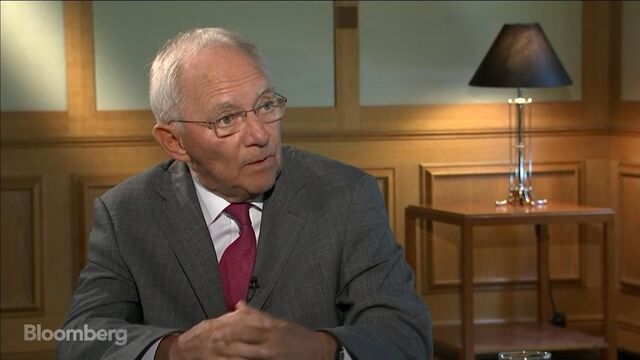 Germany's formidable finance minister was in fine form yesterday. Full of optimism about Europe and effusive in his praise of Emmanuel Macron, Wolfgang Schaeuble still managed to show who rules the roost in Europe.
A throwaway remark on Greece moved the bond market. His suggestion that Britain still has time to forget about Brexit went viral. And Macron himself picked up on that theme later in the day. In the middle of all that bonhomie, Schaeuble issued a veiled warning that Angela Merkel probably won't go as far as Macron wants to bolster and reform the euro zone.
For all the hype surrounding France's new president, Schaeuble's interview at Bloomberg's Germany Day conference in Berlin was a reminder about where the power lies in Europe.
Merkel may not like to hear it, but in the age of Donald Trump, Germany is re-emerging as an alternative global power in Europe and beyond.
Trump will be reminded of that fact when the two meet at the G-20 summit in Hamburg in early July, with tensions already crackling on everything from trade to climate change.
Sign up to receive the Balance of Power newsletter in your inbox, and follow Bloomberg Politics on Twitter and Facebook for more.

Global Headlines
Sessions shows his loyalty | Anyone hoping for a big revelation from Attorney General Jeff Sessions yesterday would have been disappointed. Sessions, who reportedly had fallen out of favor with Trump in recent weeks, staunchly refused to answer senators' questions about his exchanges with the president during a hearing about Russian election interference and the James Comey firing. That prompted Democrats to accuse him of stonewalling without any legal justification.
Trump's pit bull attorney hits back on Russia | Bloomberg's Dune Lawrence profiles Michael Cohen, the combative lawyer at Trump's side for more than a decade. Cohen, who once told a reporter that he would "mess your life up," is preparing to dispute allegations that Trump campaign officials colluded with Moscow when he testifies Sept. 5 before the House Intelligence Committee.
May gets advice from almost everyone | Former Downing Street incumbents John Major and David Cameron told Theresa May yesterday that she needs to listen more to her party after last week's election disaster. In Paris, Macron said it's not too late for Britain to change its mind about Brexit. So she can perhaps be forgiven for relieving some frustration when she joined in a Wave at a France v England soccer international at the end of the day.

Hacking the German election | German intelligence officials are preparing for a jump in cyber attacks as Merkel, Vladimir Putin's strongest critic in Europe, seeks a fourth term. The country's main parties have already been targeted this year and a group linked to the Russian intelligence agencies is the main suspect. Their German counterparts are hiring 180 lawyers and coders to protect September's vote.
Ireland's rock star prime minister | Leo Varadkar will be sworn in as Ireland's youngest-ever premier today at the age of 38. The emergence of the openly gay son of an Indian immigrant is in sync with the rise of other youthful leaders such as Macron and Justin Trudeau. His first task: sketching out a new approach to Brexit, the country's biggest foreign policy challenge in 50 years.
Singapore's family feud | Southeast Asia's normally sedate financial capital is buzzing with gossip after the reemergence of a feud between the children of Lee Kuan Yew, the founder of modern Singapore. One of Lee's sons said he and his sister have lost confidence in their brother, Prime Minister Lee Hsien Loong, in a dispute over the family estate. Lee retorted that arguments should be resolved behind closed doors.
And finally... Trump turns 71 today after replacing Ronald Reagan as the oldest person ever elected U.S. president. Some Bernie Sanders supporters who spoke to the New York Times this weekend even hoped for a battle of the septuagenarians in the next election despite the fact that the senator will be 79 in 2020. "Ageism is the last 'ism' that seems to be acceptable to people," Sanders's wife, Jane, told the newspaper.

--With assistance from Kathleen Hunter.
Before it's here, it's on the Bloomberg Terminal.
LEARN MORE