What's in a Name? For This Nation, the Stakes Couldn't Be Higher
By and
Republic of Macedonia blocked from NATO, EU over name dispute

New foreign minister visits Greece to reboot soured relations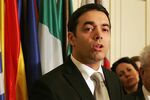 Almost a decade after the Republic of Macedonia's bid to join the European Union and NATO hit a wall, the Balkan state is hoping for another chance.
After the country's first leadership change in more than a decade this month, the nation of 2 million people is trying to tackle the key obstacle to international integration: its name. The dilemma is that Greece, a member of both the world's biggest trading bloc and the military alliance, has stymied its neighbor's membership drives into both organizations since 2008 over the moniker "Macedonia."
Foreign Minister Nikola Dimitrov visited Athens on Wednesday to reboot relations that soured under former Premier Nikola Gruevski, with the name dispute looming large. Zoran Zaev's new government has accused Gruevski of deliberately fueling the dispute with Greece, which dates back to 1991 when the nation broke away from Yugoslavia and named itself Republic of Macedonia. Greece believes that to be a territorial claim on its northern province of the same name, the birthplace of Alexander the Great.
"You have the leverage in your hands and this leverage can solve the issue," Dimitrov told reporters after meeting with his Greek counterpart Nikos Kotzias. "I'm here to ask for your support " and "I care less about who will be the winner."
Halted Talks
Greece, which like all members has a veto over accepting new members to both the EU and the North Atlantic Treaty Organization, blocked the Republic of Macedonia's accession to NATO at a summit in Bucharest nine years ago, and then later halted the start of EU negotiations.
Greece wants its neighbor to join the EU and NATO, which can happen once the name issue is solved, Kotzias told reporters in a relaxed atmosphere after meeting with Dimitrov.
"Greece wants the entire western Balkan region to be NATO members," Kotzias said. "When both sides are interested, we must find a way of understanding."
One option would be to begin accession under the provisional title "the Former Yugoslav Republic of Macedonia." But Greece's government won't accept a temporary solution including that name, which is the country's official designation at the United Nations, according to a Foreign Ministry official in Athens, who asked not to be identified as discussions are private.
In a 2014 proposal, a UN mediator in the dispute floated "Upper Republic of Macedonia" as a potential name for the country whose former federation partners Slovenia and Croatia have joined both the EU and NATO, the Balkan Insight news service reported. Another, Montenegro, became an official NATO member this month.
After years of accusations by Gruevski and his allies that the EU is urging the country to make reforms but not offering any progress on accession, Zaev and his foreign minister, Dimitrov, have argued that their new government is ready to turn the page. Among other steps, Zaev's cabinet aims to overhaul the courts and shore up the rule of law to reverse what they have denounced as Gruevski's "authoritarian" practices.
"First of all, we have to deliver," Dimitrov said in an interview last month. "This cannot be just a declaration of good intentions."
Before it's here, it's on the Bloomberg Terminal.
LEARN MORE