U.K. Politics, Inflation Shocks Mean Rockier Path for Carney
By
Rate of price gains rose to highest since 2013 last month

Policy makers will announce their latest decision on Thursday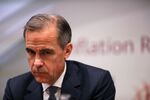 Mark Carney just can't catch a break.
After the economy slowed sharply in the first quarter, the Bank of England governor is now seeing inflation accelerating faster than anticipated, with the latest numbers at a four-year high. Coupled with that is a new minority government and plenty of uncertainty on Brexit.
While his counterparts at the Federal Reserve are preparing to raise interest rates for the second time this year, and the European Central Bank is tweaking guidance as it gently shifts its accommodative stance, Carney is having to set aside any inflation concerns to steady the economy. That means investors see little change of tightening by the BOE before his planned departure in 2019.
"The Bank of England has a much bigger challenge than the Fed right now because you have slowing economic activity and rising inflation," said Chicago Booth School Economics Professor and former Fed Governor Randall Kroszner in a Bloomberg Television interview. "That's a really tough combination for a central bank to deal with."

Carney will give his annual Mansion House speech in London's financial district on Thursday evening and may provide the first insight into his thinking on policy since the election.
While the U.K. economy has previously been supported by consumers happy splash the cash, sliding real incomes are now limiting their appetite to spend. Data published Wednesday showed that average earnings rose just 1.7 percent in the three months to April, their slowest pace for more than two years. That means inflation is far outpacing wage growth, squeezing households' living standards.
That's a problem for the BOE, which has seen consumer-price inflation surge above its 2 percent target even as the economy cools. The Monetary Policy Committee -- currently with eight members -- is set to announce its latest decision Thursday and none of the economists surveyed by Bloomberg expect any change to the benchmark rate or asset purchases.
Rate Odds
Nor is there much speculation that will change. Investors now see around a 40 percent probability of a rate increase by the end of 2018, down from as much as 80 percent earlier this year. Indeed, there is a greater likelihood of the BOE expanding its quantitative easing program than raising rates, according to Allianz Global Investors' U.K. fixed-income portfolio manager Mike Riddell.
"With negative real wage growth starting to bite, it's hard to see how the dear-old British consumer can continue to spend and prop things up," he said. "There's no juice left in the tank."
While the British economy had previously proved unexpectedly resilient in the face of voters' decision to leave the European Union, the outlook is unlikely to get much rosier for Carney in the coming months. He'll have to operate within an uncertain political climate with Brexit negotiations set to kick off in the wake of the shock election result that has weakened Prime Minister Theresa May's grip on power.
"The medium term outlook for the U.K. economy was uncertain before the election, now the Bank of England's crystal ball looks even more opaque," said Mike Bell, global market strategist at JPMorgan Asset Management. "Unfortunately, they cannot ignore the political clouds of uncertainty obscuring their outlook."
— With assistance by Jill Ward
Quotes from this Article
Before it's here, it's on the Bloomberg Terminal.
LEARN MORE