The Daily Prophet: Stocks Recover, But There's a New Worry
Connecting the dots in global markets.
By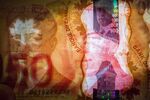 As if there weren't enough for stock investors to worry about given the recent wobble in technology shares and whether that represents something more ominous for the equity markets as a whole, a new report was published that only added to the angst.

So even though investors enjoyed a reprieve from the sell-off of the last few days, with the S&P 500 rising to a new closing high, they still couldn't stop talking about a Bank of America Merrill Lynch report that found a record 44 percent of fund managers polled in a monthly survey see equities as overvalued, up from 37 percent in May. The technology-heavy Nasdaq Composite Index was named the most crowded trade, with 57 percent of investors saying internet stocks are expensive and 18 percent calling them "bubble-like," according to Bloomberg News's Julie Verhage. More than 200 panelists with a combined $596 billion under management participated in the survey, which was conducted between June 2 and June 8, right before the tech rout on June 9 where the Nasdaq tumbled almost 2 percent as tech giants such as Apple, Microsoft and Google parent Alphabet Inc. led the way.
"In March 2000 every waking investing individual knew the stock market was wildly overvalued, but that didn't stop what was to follow," said Peter Boockvar, chief market analyst at The Lindsey Group. "In the ninth year of a bull market, things are expensive, that's what just happens in the late stages."
FIXED-INCOME IS NO BARGAIN, EITHER
Bond investors are turning more cautious heading into Wednesday's Federal Reserve meeting, where policy makers are widely seen raising interest rates for the third time since December. A weekly client sentiment index from JPMorgan Chase, which happens to be the world's biggest bond underwriter, fell to its lowest level since the start of the year. Those respondents who described themselves as being long bonds dropped to the lowest since 2015. Binky Chadha, the chief global strategist at Deutsche Bank's U.S. securities unit, is part of a group of die-hard bond bears who say Treasuries have become unhinged from reality and yields have nowhere to go but up, according to Bloomberg News's Liz Capo McCormick. He points to all the obvious signs investors seem to be ignoring: higher benchmark interest rates, wage pressures that will lead to faster inflation, worsening budget deficits that will result in more debt issuance.

FINANCIAL CHIEFS LOOKING LESS OPTIMISTIC
That didn't last long. U.S. chief financial officers are coming to grips with the reality of politics in the nation's capital, according to Bloomberg News's Vince Golle. The share of CFOs who are more optimistic about the economy is the lowest since before the presidential election, and more are less upbeat, results of a second-quarter survey by Duke University/CFO Magazine showed Tuesday. A jump in sentiment about near-term fixes to tax and health-care policy has given way to increased doubt as Congress stays fixated on investigating Russia's role in the U.S. election. Separately, a monthly survey by the National Federation of Independent Business showed that the percentage of respondents expecting a better economy has been trending lower in recent months, to 38 percent for May from 50 percent in December. The percentage forecasting higher sales has dropped to 22 percent from 31 percent in the same period.
LOONIE TAKES FLIGHT
Canada's dollar has rapidly become the big story in the foreign-exchange market, sending the currency to its biggest four-day gain since March 2016. That's because investors betting against the Canadian economy lost a key support Monday when the country's central bank indicated it's turned bullish enough to consider raising interest rates -- a surprise policy change that the Bank of Montreal called a "potential watershed," according to Bloomberg News's Theophilos Argitis and Maciej Onoszko. Governor Stephen Poloz added to the bullish tone in a CBC interview Tuesday by saying rates have been "extraordinarily low," and that rate cuts "have done their job." The comments are a rebuke to pessimists who say unprecedented household debt and record home prices will trigger a disorderly unwind of Canada's housing markets, some of which may have entered into bubble territory. Speculators held a near-record bearish position on the Canadian dollar as of last week, according to Commodity Futures Trading Commission data.

OIL MARKET TURNS UPSIDE DOWN
Can the oil market get any crazier? Crude tumbled in early trading on a report that at the same time as OPEC and its partners agreed last month on prolonging production cuts, the group's output was climbing the most since November as members exempt from the deal restored lost supply. Oil then reversed and gained amid estimates that U.S. supplies declined. Recall that it was U.S. producers flooding the market that had caused a glut of oil and helped send prices below $50 a barrel. At about $46, oil is a long way from last month's $52 peak, though investors are positioning themselves for slightly better news in Wednesday's Energy Information Administration report, according to Bloomberg News's Jessica Summers. "The market's been leaning pretty hard bearish," said Bill O'Grady, the chief market strategist at Confluence Investment Management. "If last week turns out to be kind of a weird outlier, you don't really want to be short going into this number. You've got enough Saudi support to prevent the market from really falling apart, but you just don't have enough to really get you above $55."

TEA LEAVES
It's a foregone conclusion, or at least according to the action in the money markets, that the Fed will raise its target for the federal funds rate to a range of 1 percent to 1.25 percent from the current 0.75 percent to 1 percent. More important to markets is what the central bank says in the statement accompanying the rate hike and what Chair Janet Yellen says in her press conference. Many investors and strategists are looking for what they refer to as a "dovish hike," which means the Fed raises rates but also sounds a cautious tone given the recent slowdown in the economy and inflation. Although the retirement of dovish Fed Governor Daniel Tarullo means the median expectation in the central bank's so-called dot plot will move higher, Bank of America economists say that will likely be offset by other officials lowering the overall trajectory slightly. Investors will also be listening for clues about how the Fed is thinking about unwinding its $4.5 billion balance sheet, a process many expect to start later this year.
If you'd like to get The Daily Prophet in e-mail form, right in your inbox, please subscribe to this link. Thanks!
DON'T MISS
Fed to Hold Fast in Face of Looser Financial Conditions: Tim Duy
Big Central Banks Face New Dilemmas as Markets Rally: Ben Emons
The Federal Reserve's Unspoken Mandate: Narayana Kocherlakota
Life Support for Coal Makes U.S. an Energy Backwater: Noah Smith
Economists' View of Qatar Cutoff Is a Little Scary: Tyler Cowen
Before it's here, it's on the Bloomberg Terminal.
LEARN MORE