Qatar Banks Said to Boost Deposit Rates to Attract Dollars
By , , and
Lenders said offering premium of 100 basis points over Libor

Finance minister says Qatar has enough financial firepower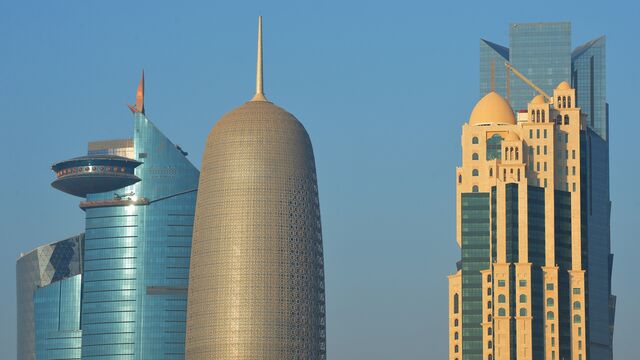 Some Qatari banks are boosting interest rates on dollar deposits to shore up liquidity as a Saudi-led campaign to isolate the gas-rich Arab state intensifies, people familiar with the matter said.
The lenders are offering a premium of as much as 100 basis points over the London interbank offered rate to attract dollars from regional banks, two of the people said, asking not to be named because the matter is sensitive. That compares with rates of 20 basis points over Libor before the feud started on June 5.
Some of the banks are dealing with regional lenders directly instead of using brokers, which allows them to determine interest rates depending on the amount being deposited, two of the people said.
Qatar, one of the world's richest countries and biggest producer of liquefied natural gas, is seeking to boost dollar supplies after Saudi Arabia, the United Arab Emirates and Bahrain cut economic and diplomatic ties with the country last week, in an unprecedented move designed to punish it for ties with Iran and Islamist groups in the region. Some banks in neighboring countries are cutting their exposure to Qatar amid concerns of a widening of the blockade, people familiar with the matter said on June 7.

'More Cautious'
While banks are unlikely "to be thrust into a crisis," borrowing costs "look set to rise and banks are likely to become more cautious with their lending," Jason Tuvey, London-based Middle East economist at Capital Economics, wrote in a report on Tuesday. "If local banks struggle to rollover their external debts, they could be forced to shrink their balance sheets and tighten credit conditions."
Central bank officials in Qatar didn't immediately respond to requests for comment. The regulator said on Monday that the banking system was functioning without disruption.
Qatar has enough financial firepower to defend its currency and economy, Finance Minister Ali Shareef Al Emadi told CNBC in an interview broadcast Monday. Al Emadi played down the impact of the crisis on the country, saying the plunge in Qatari assets last week was a "normal" reaction to the standoff.
QNB
Qatar National Bank, the biggest lender in the Middle East, said it didn't see any "significant" rate increases since the standoff began, according to an emailed statement from the bank on Tuesday.
Investors have been selling Qatari assets and speculating against the riyal as they ponder how long Qatar can weather the crisis without having to devalue its currency or sell any of its global holdings. Qatar's 12-month riyal forwards closed at 588 basis points against the dollar on Monday, the highest level since at least 2001, according to data compiled by Bloomberg. Rates eased slightly to about 500 basis points on Tuesday.
At the end of April, Qatar's banks held 21.4 percent of their customer deposits in foreign currency, according to central bank data. Non-resident deposits made up 24 percent of the overall deposits of 781 billion riyals ($213 billion), the data shows.
Strong Enough
Qatari banks are strong enough to survive the pullout of all Gulf money and then some, according to S&P Global Ratings. The ratings agency ran two hypothetical scenarios of capital flight, and concluded that Qatar's lenders could survive the withdrawal of all Gulf deposits plus a quarter of the remaining foreign funds the banks keep.
S&P last week lowered Qatar's long-term rating by one level to AA-, the fourth-highest investment grade, and put it on negative watch.
Qatar, about the size of the U.S. state of Connecticut, relies heavily on imports, which need to be paid for in dollars, to feed its 2.7 million people, most of them expatriates. Qatar also imports building materials for construction as it prepares to host the soccer World Cup in 2022.
— With assistance by Arif Sharif, and Filipe Pacheco
Before it's here, it's on the Bloomberg Terminal.
LEARN MORE