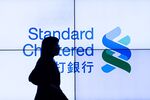 Standard Chartered Plc CEO Bill Winters told the Hong Kong Economic Times that the lender is gearing up to pay its first dividend in more than two years. It's about time.
With a common equity Tier 1 ratio of 13.8 percent as of March 31, up 20 basis points from the end of 2016, the bank's financial strength is more than adequate.

The London-based financial institution isn't out of the woods yet. Its private-equity arm chalked up a $650 million loss last year having piled into risky assets including an energy company in Nigeria, and nonperforming loans are still in the billions of dollars.
StanChart's return on equity is also lower than even that of Japanese lenders, which are grappling with negative interest rates. And its stock still trades at a steep discount to book value, suggesting investors believe the firm isn't worth the sum of its assets.

After several rounds of cost- and job-cutting, however, StanChart isn't the bank it was two years ago. In 2015, StanChart recorded its first loss since 1989 and Winters replaced Peter Sands as chief executive officer.
For the first quarter of 2017, profit before tax of $1 billion was up 94 percent year-on-year while loan impairments of $198 million fell 58 percent. Finance Director Andy Halford said a dividend would be back on the cards when the bank is "sure its profit trajectory is sound" and confident new regulations won't erode its core capital ratio.
At 13.8 percent, StanChart has a sufficient buffer against any fresh rules. It's not the highest in the industry, but it's not the worst either:

Meanwhile, a pick-up in global trade is boosting transaction-banking revenue and rising interest rates should also be beneficial. Instead of paying more in staff bonuses, it's time StanChart lavished some affection on shareholders.
This column does not necessarily reflect the opinion of Bloomberg LP and its owners.
Before it's here, it's on the Bloomberg Terminal.
LEARN MORE