Rhodes Scholar Goes From Afghan War to Saving a Capital City
By
Hartford, Connecticut's mayor seeks to stave off bankruptcy

Waiting for state aid, hometown insurers agree to step in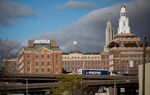 Luke Bronin was a Rhodes Scholar, graduated from Yale Law School, served as a U.S. Navy intelligence officer in Afghanistan and worked as a senior Treasury Department aide when the Obama administration was trying to prevent a repeat of the Wall Street credit crisis.
But the 36-year-old mayor of Hartford, Connecticut, may be facing his most difficult challenge yet: saving the distressed capital city from financial collapse.

Hartford, where a third of its 123,000 residents live in poverty, faces a $50 million deficit, nearly 10 percent of its budget, and may not receive a lifeline from the cash-strapped state. Two weeks ago, Aetna Inc., its fourth-largest taxpayer, said it was moving its headquarters from the city it's called home since 1853. Hartford's credit rating may be downgraded deeper into junk. And if no fix is found, it could be the first major city to file for bankruptcy since Detroit four years ago.
"There's a limit to how much you can tax and there's a limit to how much you can cut before you damage the viability and attractiveness of the city," said Bronin, whose city's property-tax rate is already the highest in Connecticut. "Right now from a fiscal standpoint you have a capital city fighting with its hands behind its back."
The problems are legion. The population declined 23 percent between 1960 and 2000 and has remained stagnant ever since. It has a higher poverty rate than Baltimore or Newark, and from 2010 to 2014 the Hartford metropolitan area saw the fifth-biggest decline in employers in the nation, according the Economic Innovation Group, a Washington-based public policy organization.

After most work days, the central business district of the "Insurance Capital of the World" clears out. While the city borrowed about $70 million to build a new baseball stadium for the Hartford Yard Goats, development of shops, restaurants and housing around the park has been stymied by a legal dispute between the city and the stadium's former developer. Plagued by cost-overruns, the stadium is an easy target for suburbanites skeptical about helping the city.
Bronin, who became mayor in 2016, needs to convince them otherwise. Hartford's tax base of about $4.1 billion is about two-thirds that of neighbor West Hartford, which has far fewer residents, because half of property -- state buildings, hospitals, universities, non-profit agencies -- is tax-exempt. 
"Without strong, vibrant, economically competitive urban centers, our suburbs and towns will suffer too," he said.
Bronin is lobbying the state to fully fund a program that compensates local governments for revenue lost to tax-exempt properties, which alone would provide enough money to close next year's deficit, and has joined with cities pushing to raise Connecticut's 6.35 percent sales tax to 6.99 percent to provide more aid. He also persuaded Hartford Financial Services Group Inc., Travelers Cos. and Aetna to pledge $50 million to the city over five years as part of a "comprehensive and sustainable solution for Hartford."
"He was really dealt a bad deck of cards," said Mark Bonaquisto, whose family has run a market in Hartford for 90 years. "He's not going to get anything from the state. There's just nothing to give."
Bronin grew up in Rye, New York and Greenwich, the hedge fund capital of the U.S., the son of a doctor and an art teacher. He attended prep school at Phillips Exeter Academy in New Hampshire and then studied philosophy at Yale.
He moved to Hartford in 2006 after his wife, whom he met when they were both Rhodes Scholars, got a job teaching at the University of Connecticut School of Law. Bronin took a job as chief of staff to Neal Wolin, then-president and chief operating officer of Hartford Financial's property and casualty business.
In 2009, when President Barack Obama nominated Wolin to serve as deputy to Treasury Secretary Timothy Geithner, Bronin joined him in Washington. He helped craft a sweeping overhaul of financial regulations that included a ban on proprietary trading by investment banks, new bank capital requirements and an oversight council to monitor systemic risks.
He left to serve as a Navy intelligence officer in Afghanistan on a task-force aimed at rooting out corruption in the Afghan government and military, later returning to the Treasury, where he worked to stymie the flow of funds to terrorist groups and Iran. After a stint with Connecticut Governor Dannel Malloy, he ran for mayor in 2015 against the incumbent.
And Now The Hard Part
Bronin took over a city that'd been delaying its fiscal reckoning by pushing debt payments into the future, draining reserves and resorting to one-time measures, such as selling a parking garage, while its debt swelled by 52 percent from 2011 to 2015, according to Moody's Investor Service figures.
Since taking office in 2016, he's cut 100 jobs and renegotiated leases and energy contracts. Bronin's been less successful in getting concessions from unions: The city's fiscal 2017 budget assumed $16.5 million of concessions, the bulk of which haven't materialized.
Hartford managed to strike a deal with its firefighters that saves about $4 million a year through 2020 by freezing pay increases, increasing pension contributions, lowering salaries for new hires and requiring employees to pay more for health care.
"I give the fire union a lot of credit for recognizing the reality we face," Bronin said.
Hartford could renegotiate labor contracts and cut debt and pensions in bankruptcy, as a handful of cities have done since the recession. It would need the governor's consent to file chapter 9, an option it has explored with attorneys.
Wells Fargo Asset Management which owns $40 million of Hartford's debt, expects the state will come to the city's rescue. "He's slashed as much as he could out of the city budget and now he's trying to force the state's hand," said Luke Hammer, an analyst. "He hasn't hidden the problem at all."
The city's efforts to revive downtown are beginning to bear fruit. More than 1,000 units of residential housing have been built in the past couple of years. The University of Connecticut is moving its West Hartford campus downtown, bringing thousands of students, and commuter rail service connecting New Haven, Hartford and Springfield, Massachusetts is beginning next year. Even when Aetna leaves, it will still have thousands working there.
"At the same moment we're facing a fiscal crisis we also have the strongest momentum that we've had in many years," Bronin said.
Quotes from this Article
Before it's here, it's on the Bloomberg Terminal.
LEARN MORE