Mnuchin Says There's Such a Thing as 'Good' Government Shutdown
By
Says shutdown would be 'unfortunate' and not primary objective

Treasury chief urges Congress to raise debt limit by August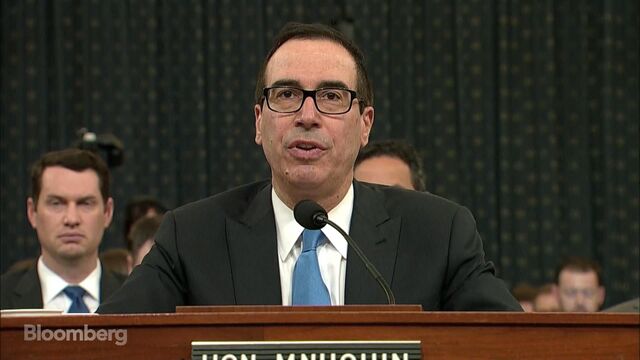 The U.S. Treasury secretary says there may be such a thing as a "good" government shutdown.
"It's an unfortunate outcome -- at times there could be a good shutdown, at times there may not be a good shutdown," Steven Mnuchin said during in a Senate Budget Committee hearing on Tuesday.
A shutdown isn't the Trump administration's "primary objective," Mnuchin said. But "there could be times, we could go through a lot of hypothetical things today, there could be reasons at various times why that is the right outcome."
Congress and President Donald Trump are on a glide path toward twin political crises in the fall: a stalemate over funding the government and the possibility of an unprecedented default on the national debt. Failing to pass a spending bill could lead to parts of the government shutting down, while failing to raise the statutory ceiling on the government's debt for the first time ever would have unpredictable effects.
Trump said on Twitter on May 2 that "Our country needs a good 'shutdown' in September to fix mess!" At Tuesday's hearing, Senator Tim Kaine, a Virginia Democrat, asked Mnuchin how he felt about that tweet.
Mnuchin is not the first Cabinet member to endorse Trump's position that some shutdowns are good. White House budget director Mick Mulvaney said on CBS's Face the Nation on May 7 that a "good" shutdown would "help fix" a budgeting and spending process that he called "broken."
"It's part of that overall drain-the-swamp mentality about Washington, D.C.," Mulvaney said. "This president is willing to think outside the box and do things differently around here in order to change Washington. And if that comes to a shutdown, so be it."
Borrowing Cap
The government hit its borrowing limit in March, and Mnuchin has used special accounting maneuvers to keep the national debt under its current statutory ceiling of about $20 trillion. Mnuchin on Friday acknowledged that tax revenue is coming in "somewhat" lower than expected as a result of anticipated tax cuts, though he added that he's not concerned.
He's urged Congress to raise the limit before lawmakers leave for their month-long August recess.
Still, Mnuchin said he would not want to shut down any "critical" government functions, without specifying which services the Trump administration considers vital.
"If we were spending too much money on things and we couldn't come to agreements on things that were not critical -- but I can assure you that with the debt limit, our number one objective is to raise the debt limit. I can also assure you that we would never shut down critical functions," he said.
Mnuchin said he'd prioritize repairing the budget-making process if it was left to him.
"If I got to be king for the day, I'd probably choose to fix the budget process even over Dodd-Frank," he said, referring to Obama-era financial reform legislation that Trump has vowed to dismantle. "It's completely broken."
— With assistance by Kevin Whitelaw
Before it's here, it's on the Bloomberg Terminal.
LEARN MORE