Ghana Leader Favors Constitutional Change to Boost Finances
By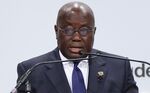 Ghana's President Nana Akufo-Addo said he is in favor of changes to the West African country's constitution that will allow lawmakers better oversight over public finances.
Akufo-Addo, whose National Patriotic Party came into power in January in the world's second-biggest cocoa producer, is battling rising public debt following a discovery of about 7 billion cedis ($1.6 billion) in unplanned spending by the previous administration of President John Mahama. The new government is also seeking better terms under a three-year $918 million bailout package that the country agreed to in April 2015 with the International Monetary Fund, according to a person familiar.
"Our parliament should be able to exercise full authority over our public finances," Akufo-Addo said in an emailed statement on Tuesday that included remarks he delivered at a conference in Berlin. "It will be necessary to amend the constitution. If this were done, it would enhance significantly parliament's oversight capacity."
The cedi strengthened 0.2 percent to 4.3750 against the dollar by 5:01 a.m. in Accra. The currency has weakened 6.1 percent this year.
Changes to the supreme law won't be agreed to easily and there is no consensus over whether any should be implemented, Akufo-Addo said in the statement.
"We are passionate about our beliefs, and it would not be easy to make such a change, or any change, for that matter, to the constitution," he said.
Quotes from this Article
Before it's here, it's on the Bloomberg Terminal.
LEARN MORE