politics
Bucking Trend, Insurer Centene Expands Obamacare Coverage
By
Centene to start offering plans in Kansas, Missouri, Nevada

Insurer expands coverage footprint in six additional states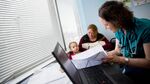 Health insurer Centene Corp. plans a broad expansion of its Obamacare offerings next year at a time when many of its big rivals are retreating from the program.
Centene said Tuesday that it would sell Affordable Care Act plans in three additional states: Kansas, Missouri and Nevada. The company also said it will expand in six states where it already offers Obamacare plans.
"Centene recognizes there is uncertainty of new health-care legislation, but we are well positioned to continue providing accessible, high quality and culturally-sensitive health-care services," Chief Executive Officer Michael Neidorff said in the statement.
The company specializes in providing Medicaid coverage for low-income people, and has said the skills it's honed in that business have helped make it successful in Obamacare markets.
Aetna Inc., Humana Inc. and UnitedHealth Group Inc. have largely quit Obamacare after wracking up losses, leaving some consumers with fewer options. Republican efforts to repeal the health law, and uncertainty over the degree to which President Donald Trump's administration will continue to run it, have led to volatility in the market and contributed to the exits.
Centene's expansion could help add options for consumers who've seen other health plans quit their markets, though the company didn't give details on its exact plans. The states the company is expanding in are Florida, Georgia, Indiana, Ohio, Texas and Washington. Separately, Aetna confirmed on Tuesday that it filed to offer ACA plans in Nevada for 2018.
Insurers Leaving
Insurer exits have reduced competition in many states, and left some counties in Ohio and Washington facing the prospect of having no Obamacare options for 2018. Insurance regulators in Washington and Ohio said Centene hadn't proposed to sell in counties that lack Obamacare options next year. In Kansas, it will sell in two counties where Blue Cross and Blue Shield of Kansas City pulled out, according to the state's insurance department.
Centene is quitting the ACA market in Massachusetts, where it had relatively low enrollment.
The decisions were based on where Centene has sufficient networks of doctors and hospitals, and typically included areas where the company already offers other types of insurance products, Neidorff, the CEO, said in an interview.
"We're trying to fill in counties where we see a need," he said. "Some of the other plans maybe tried to go too far too fast and had to pull out."
Centene's shares were up 1.7 percent to $77.79 at 2:31 p.m. in New York.
The insurer covered 1.2 million people in ACA plans as of March 31, making it one of the biggest sellers of the plans. About 12.2 million people selected individual ACA plans for this year. Obamacare created markets where individuals who might otherwise go uninsured can buy health insurance plans and are given subsidies to help them afford the coverage.
(
Updates with empty counties in the eighth paragraph.
)
Before it's here, it's on the Bloomberg Terminal.
LEARN MORE