Your Evening Briefing
Bloomberg News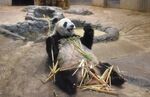 It's a bear market, but not as you know it. The latest addition to Tokyo's Ueno Zoo, a newborn giant panda, has had a remarkable effect on the local economy. Shares in nearby restaurants surged — by 38 percent in the case of one Chinese eatery, after national broadcaster NHK sent out an urgent news bulletin to break the news. The birth has raised hopes of a tourism boost in the city's central metropolitan area, with the Nikkei citing one estimate that put the economic impact of the cub at a staggering 26.7 billion yen ($242 million). It's the first time in five years that a panda cub's been born in the zoo, and many will be hoping it isn't the last. — Alex Millson
China's $5 trillion asset pile is here to stay. Investors who fret about when and how global central banks will run down their crisis-era balance sheets can be relaxed about the biggest of them all — China's. Whereas the Federal Reserve's $4.5 trillion hoard is set to be shrunk and the European Central Bank's should stop growing by the end of this year, China's is here to stay — and could even expand.
Forget the FANGs, in Japan the Sunrise stocks are the ones to watch. While the so-called FANGS (Facebook, Amazon, Netflix and Google) have gained an average 44 percent over the past year, Japan has it's own similar group that's doing even better. The "Sunrise" stocks - SoftBank, Nintendo, Recruit, Sony (SNRS) have risen an average 65 percent over the same period.
Hong Kong's ambitious plan to create a tech hub. A disputed swamp on the border of Hong Kong and economic powerhouse Shenzhen is being touted as an incubator for future tech giants. The idea is that tenants would be close to China's cheap manufacturing hub, while retaining Hong Kong's legal and business framework and internet freedom. The otters and migrating birds that populate the marshes may not be too happy, however.
The corporate winners and losers of the Qatar standoff. With Qatar increasingly isolated from its Gulf neighbors in an escalating geopolitical crisis, the economic and financial implications are starting to emerge. Here's a look at how the crisis could impact companies in the region.
The world's unlikeliest socialists. The residents of Kensington — the wealthiest constituency in London — include Britain's future king, bankers, celebrities and aristocrats. Despite the blue-blooded credentials, they rejected the Conservative Party for the first time ever in last week's election, opting instead for the Labour Party. Here's why.

Read this book. It'll rattle you. Before settling in for pleasurable summer books, read Graham Allison's "Destined for War: Can American and China escape Thucydides's Trap?" A warning label: It's going to scare the hell out of you, writes Albert R. Hunt. The two nations, Allison argues, are "currently on a collision course for war," which he says can be averted only if both demonstrate skill and "take difficult and painful actions to avert it." Maybe not the ideal poolside read then…

Quotes from this Article
Before it's here, it's on the Bloomberg Terminal.
LEARN MORE