No One's Laughing at Labour's Grassroots Campaigners Now
By and
Once-patronized Corbyn backers enjoy shock election results

Political professionals struggle to explain party's success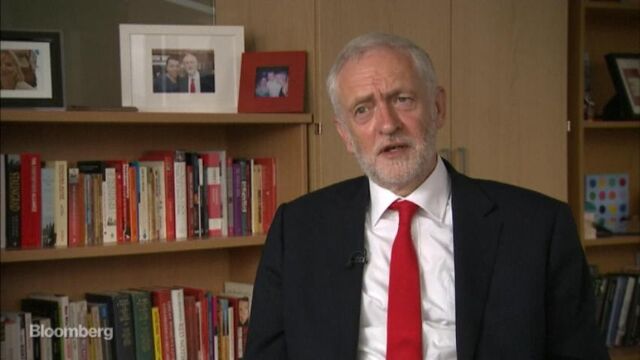 It was 3:30 a.m. on Friday when Adam Klug finally decided to try and get some sleep. He'd been campaigning non-stop for weeks in support of Britain's Labour Party and, as the election results poured in, it looked like his hard work had paid off.
A fellow activist had taken a hotel room for the night, and was letting people use it. "We slept in shifts," Klug said. He dozed for two hours with the television on so that he could follow the news of one of the biggest upsets in British politics. "Then two other people came, and they took the bed."
As the political world tries to understand how Jeremy Corbyn -- a 68-year-old, bearded, old-school socialist -- came within a few thousand votes of becoming prime minister, one explanation lies in the grassroots movement of political novices who elevated him to the post of Labour leader, and believed him to be capable of much more.
Klug, 30, had never worked on an election campaign before. During the last one, in 2015, he was a primary school teacher in Birmingham, central England. And he still doesn't work for the Labour Party. In fact, many within Labour regarded him as somewhere between naïve and dangerous. He is the national organizer of Momentum, a group set up outside the party to support Corbyn.
Labour Fringe
Corbyn has been on the fringes of the party for decades. He backs higher taxes, nuclear disarmament, and state control of industries. On top of all these, he has a history of closeness to extremist groups including the Irish Republican Army. When he became leader in 2015, propelled there by a membership sick of centrists, the party's lawmakers were aghast. The following year they passed a motion of no confidence in him, but he refused to step down.
When Theresa May called the snap election, Labour officials with decades of experience between them and a network of contacts that know the situation on the ground expected the party to lose up to a third of its 229 seats. Their main reason was Corbyn. The Conservative Party, with its own fearsome electoral machine, agreed on both counts.
London's Unlikely Socialists: Kensington Is Now Corbyn Country
Klug and his colleagues in Momentum thought differently. They believed Labour could gain seats, and even form a government. They gave a number of reasons, but the main one was Corbyn.
"There's something about Jeremy Corbyn and his values and the way he's conducted himself," Klug said, sitting in the sunshine on a low wall outside the Houses of Parliament the day after the election. "It's the way he is as a human being."
This is the kind of remark that tends to lead Labour officials and lawmakers to roll their eyes. That Momentum exists at all is a reflection of the level of mutual suspicion between the Labour machine and those around Corbyn. 
True Believers
Even when supporters turned out in their thousands to hear Corbyn speak, Labour professionals dismissed the events: They were held in safe seats, and rallies were a poor indicator of public support.
Then came the results, and Labour gained 33 seats. May's Conservatives got the most votes and the most seats, but no one is calling her a winner, and her survival is in doubt. Meanwhile Corbyn's band of supporters is riding a most unexpected wave.
"What we knew was that we had the right ingredients to build something that was popular and empowering and could win," Klug said.
Election Debacle Shows Death of Anti-Elite Anger is Exaggerated
The night before, he had moments of doubts. As 10 p.m. approached, he was in the Momentum offices in Euston, central London, with around 20 other staff and volunteers. They were waiting for the exit poll that would give the first clue to the result.
Klug made sure he was standing near the door. "We knew we had had a fantastic campaign, but I remember fearing that that was the pinnacle," he said. "I wasn't going to run away, but I wanted to know that I could."
Shock, Pride
Instead, when the poll dropped, there was "disbelief, shock, emotion, pride." As volunteers started arriving at the office to celebrate, the staff tried to stay professional. Even so, at around 2:30 a.m., people in the room were chanting "Jeremy Corbyn, Jeremy Corbyn."
That was when Klug slipped away to catch two winks.
For all the delight of Corbyn's supporters, Labour still lost the election, and is more than 50 seats behind the Tories in Parliament. It's not clear whether Corbyn will find it any easier to do any of the things he struggled with before the campaign -- keeping lawmakers on his side and running the opposition -- but he is not going anywhere. His leftist alternative is here to stay.
"We've unleashed a different way of doing politics that you can't put back in the box," Klug said.
Before it's here, it's on the Bloomberg Terminal.
LEARN MORE