The Daily Prophet: Tech Wreck Is More Bark Than Bite
Connecting the dots in global markets.
By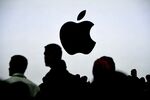 The rout in U.S. technology shares that has helped send global equities to record levels this year continued as investors debated whether the drops represent merely a pause or a more fundamental crack in the bull market. The Nasdaq Composite Index had its biggest two-day plunge since the start of December, falling 0.52 percent Monday to add to Friday's 1.80 percent drop.

Yes, that's scary-sounding until you realize that just five names account for almost 75 percent of the Nasdaq's decline, with Apple, Microsoft, and Google parent Alphabet falling as much as 6.5 percent. Those companies account for nearly 30 percent of the index's weighting, according to Bloomberg News's Julie Verhage. Bulls are taking solace in how little money is actually leaving the stock market as a whole. That's seen in investment flows, where one of the biggest withdrawals from exchange-traded funds tracking tech shares in a year was more than offset by deposits into banks, energy producers and retailers. On a net basis, investors sent $1.9 billion to ETFs focused on U.S. equities Friday, five times the money sent to fixed income, data compiled by Bloomberg show. While tech ETFs experienced withdrawals of about $510 million, financials had inflows of almost $1 billion and energy took in $120 million, according to Bloomberg News's Lu Wang.


"The fact that the Nasdaq could sell off 2 percent but leave the broader S&P 500 essentially flat is a good sign that money is not leaving equities, but simply repositioning," said Morgan Stanley strategist Michael J. Wilson. "That is supportive of our view that this is a correction, not the end of the bull market." Wilson isn't alone. RBC Capital Markets chief equity strategist Jonathan Golub raised his 2017 target for the S&P 500 from 2,500 to 2,600. That's 7 percent higher than the 2,429.39 it closed at Monday.

BOND MARKET FLEXES MUSCLES AHEAD OF FED MEETING
Did bond traders not get the memo that the Federal Reserve is widely seen raising interest rates again on Wednesday? The Treasury Department auctioned $116 billion in bills and notes Monday, and all were enthusiastically scooped up by investors. The star of the day was the three-year note auction, where investors placed bids for three times the $24 billion that was offered, the highest bid-to-cover ratio for that maturity since 2015. Low inflation and a lack of progress on Donald Trump's fiscal agenda are the main reasons why the bond market has been gaining strength in recent months. The weighted average year-end estimate for 10-year Treasury yields fell to 2.7 percent, based on a Bloomberg survey published last week, down about 20 basis points from two months ago. The result brings the consensus forecast back to its lowest level of 2017, set in January. And even if Fed officials proceed to reduce its $4.5 trillion balance sheet later this year, they've signaled it will be more gradual than traders had feared, according to Bloomberg News's Brian Chappatta. Even so, the good feelings at Monday's auctions were short-lived as Treasuries gave up their gains as the afternoon wore on. It looks like at least some traders don't want to risk being too long the bond market going into this Fed meeting.


THE POUND HAS FALLEN AND IT CAN'T GET UP
Sterling is struggling to find a bottom. The Bloomberg British Pound Index fell again Monday for its worst two-day decline since early October, dropping 2.42 percent. The botched election campaign opened a new front in the Tories' decades-long internal conflict over Britain's membership of the European Union, and now Theresa May is preparing for a showdown with her lawmakers that could hasten the end of her premiership, according to Bloomberg News's Tim Ross and Alex Morales. Some of May's most senior ministers are plotting to soften her approach to leaving the bloc, potentially keeping the country in the single-market and customs union. By contrast, hard-line Brexit supporters are determined to force through the prime minister's plans for a clean break. The pound, which rose to as high as $1.3048 last month, fell to as low as $1.2639 Monday. The currency will likely settle into a range of $1.20 to $1.25, Pioneer Investment Management foreign-exchange strategist Paresh Upadhyaya sold Bloomberg News's Alexandria Arnold.


ITALY IS LOOKING UP. NO, REALLY
Further south on the European continent, things are looking up for Italy and its creditors. Italian bonds climbed after support for an anti-euro populist party slumped in local elections over the weekend. Yields on Italy's 10-year bonds fell to their lowest since January after the setback for the opposition Five Star Movement, which reduced the party's prospects of leading the government after parliamentary elections. Investors had been concerned that a national election this year could lead to either a hung parliament or a win for the anti-establishment Five Star, which has called for a referendum on Italy's membership in the euro, according to Bloomberg News's Stephen Spratt. The good feelings extended to the euro, as the Bloomberg Euro Index opened higher and stayed higher all day. The International Monetary Fund added to the good news by revising upward its forecast for Italy's 2017 economic growth. It now says gross domestic product is projected to expand by about 1.3 percent this year, up from the 0.8 percent seen in April. The Washington-based fund said it expects growth in the euro region's third-biggest economy "to moderate to around 1 percent in 2018-20."


OIL MAY BE THE NEW PAIN TRADE
Crude markets are taking oil optimists by surprise yet again. Hedge funds boosted bets on a rally just before West Texas Intermediate prices tanked on a report showing surging American stockpiles, according to Bloomberg News's Jessica Summers. Wagers rose 7.3 percent to their highest since April in the week through June 6, U.S. Commodity Futures Trading Commission data show. The next day, futures fell the most since March and are lingering near this year's lows. "The last thing the market needed to see was that inventories in the U.S. went up, when they are supposed to be going down seasonally," said Tamar Essner, an energy analyst at Nasdaq Inc. Before oil took a tumble, some banks were already having doubts on the market. Goldman Sachs Group Inc.'s equities team slashed its WTI and Brent price forecasts for this year, and Citigroup said OPEC needs to give more clarity on the group's process for targeting stockpiles as it cuts output to ease a global glut. Oil edged up following its plunge last week after Saudi Arabia and Russia said crude markets will rebalance. Oil did manage to post a small gain Monday after Saudi Energy Minister Khalid Al-Falih said inventories are declining and reductions will accelerate in the next three to four months. Still, the price increase didn't come close to recovering the 3.8 percent loss last week.


TEA LEAVES
A heavy week of economic data and events gets rolling Tuesday with the release of the producer price index, which is forecast to show no change in May from April. A day later, the Federal Reserve's June monetary policy meeting will take top billing, but retail sales and consumer inflation data released earlier in the day will be carefully watched, according to Bloomberg Intelligence economists. A federal funds rate increase is widely expected, so the more market-sensitive elements of the Fed's meeting will relate to signals regarding future policy action -- either the path for the rates going forward or plans regarding a reduction in the central bank's $4.5 trillion balance sheet. These will be contingent upon a rebound in both consumer spending and core inflation, according to the BI economists. The median estimate among economists surveyed by Bloomberg is that retail sales rose just 0.1 percent in May, while the consumer price index was likely unchanged.
If you'd like to get The Daily Prophet in e-mail form, right in your inbox, please subscribe to this link. Thanks!

DON'T MISS
There Is Hope for Volatility-Starved Bond Traders: Scott Dorf
Gold Bound to Disappoint the Bulls -- Again: Shelley Goldberg
Chinese Efforts to Stem Housing Bubble Shows Promise: Junheng Li
Time for Gilt Investors to Wake Up and Smell the Cordite: Gadfly
Gold Patina of Emerging-Market Debt Hides Frayed Edges: Gadfly
Before it's here, it's on the Bloomberg Terminal.
LEARN MORE