Ocado Plans Bond Market Debut to Support Growth Ambitions
By
Online grocer seeks to raise GBP200m via senior secured notes

Proceeds to increase warehouse capacity, bolster technology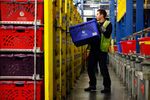 U.K. online grocer Ocado Group Plc turned to the debt markets to help fund its domestic expansion, seeking 200 million pounds ($254 million) in what would be its debut bond sale.
The company, which has yet to show much payback on the hundreds of millions of pounds it has invested since a 2010 share offering, will use proceeds of the seven-year notes to increase U.K. warehouse capacity and make improvements to its technology platform, it said in a statement Monday.
The note issue meets a key need for Ocado, which continues to plow money into expansion despite generating little in the way of profit. The company is relying on licensing its grocery storage and distribution technology to international supermarkets, signing the first such deal with an as-yet unnamed European retailer earlier this month. The scope of that agreement underwhelmed investors and reignited concern that more sizeable deals may not materialize.
The bond sale "highlights the issue that has been there the whole time with Ocado, which is it has to invest a lot of money and keeps running out of cash," Charles Allen, an analyst at Bloomberg Intelligence, said by phone.

In Ocado's recently announced deal, the licensee initially opted not to sign up to the company's full offering, which involves Ocado equipping and operating an automated grocery distribution facility. The company says the reluctance of grocers to license its technology to date is because online grocery markets are too immature to justify the investment.
Ocado's shares fell 2.6 percent to 282.4 pence as of 11:21 a.m. in London, extending their decline this month to 10 percent. Skepticism over the company's prospects has made it a prime target for short sellers, who seek to profit from a falling share price. About 21 percent of the shares are currently on loan, the second highest of any company in the FTSE 250 Index, according to Markit data.
Growth Maintained
Ocado also gave an update on current trading, showing that the company broadly maintained sales growth in the last two months. Average weekly gross retail sales were 27.3 million pounds in the 22 weeks ended April 30, up 13 percent compared with a similar period of last year. Pretax profit for the period was 6.7 million pounds.
Ocado said it will hold roadshows with debt investors on Tuesday and Wednesday. The proposed offering would be its first bond, as all previous borrowings have been loans, data compiled by Bloomberg show.
The plan is the third high-yield bond sale announced on Monday, as the cost of borrowing for junk issuers in Europe is near to the lowest it has ever been.
— With assistance by Tom Freke
Before it's here, it's on the Bloomberg Terminal.
LEARN MORE