Mnuchin Says Trump Won't Veto Tax Bill Giving Wealthy Tax Cuts
By
Treasury chief calls Mnuchin Rule an objective, not a promise

White House has pitched tax plan as middle-class tax cut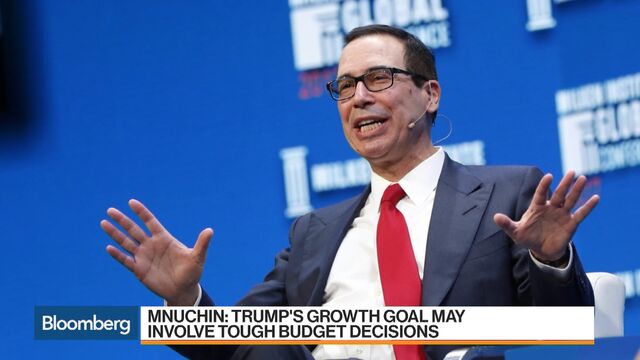 President Donald Trump won't veto a tax bill even if it provides the wealthiest Americans with a tax cut, according to Treasury Secretary Steven Mnuchin.
Mnuchin said in late November that Trump's tax plan would benefit middle-class taxpayers, not the highest earners -- an assurance that some Democrats quickly labeled "the Mnuchin Rule." On Monday, Mnuchin said those comments were an objective -- not a firm rule -- in response to a question from Representative Matthew Cartwright, a Pennsylvania Democrat, during a hearing before the House Appropriations Committee.
"The President believes that tax reform is critical to the American worker, to the middle class and the President is working closely with the House and the Senate to get tax reform done," Mnuchin said.
The Treasury secretary was pressed during Senate and House hearings last month about the Mnuchin Rule, but he wouldn't say at the time whether Trump would refuse to sign tax legislation that would make top earners the biggest winners. Instead, Mnuchin said administration officials were working on a plan that can get through Congress.
While Trump has yet to release full details of his tax plan, he pitched it during his campaign and since as a tax cut for the middle class. The plan calls for reducing the number of individual tax rates to three, and cutting the top rate to 35 percent from 39.6 percent -- a change that would represent a major tax cut for the highest earners.
Mnuchin had indicated in November that rate cuts would be offset by the elimination of certain deductions or other tax breaks -- though tax experts have questioned whether that's possible.
Before it's here, it's on the Bloomberg Terminal.
LEARN MORE