Microsoft Wins Xbox Class-Action Fight at U.S. Supreme Court
By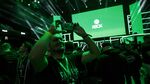 Companies won a new procedural tool in class-action litigation as the U.S. Supreme Court sided with Microsoft Corp. in a lawsuit centering on its Xbox consoles.
The justices unanimously said the consumers who sued Microsoft didn't have a right to immediately appeal after a trial judge rejected their bid to press the case as a class action. The suit claims the Xbox console has a flaw that causes discs to be scratched during normal use.
The general rule in federal court is that litigants can't appeal until a trial judge has reached a final decision. In the Xbox case, five consumers said they met that requirement because they voluntarily dropped their individual claims after a federal judge in Seattle said the case couldn't go forward as a class action.
The Supreme Court rejected that contention in an opinion by Justice Ruth Bader Ginsburg.
The case is Microsoft v. Baker, 15-457.
Before it's here, it's on the Bloomberg Terminal.
LEARN MORE