Maryland, D.C. Sue Trump for Using White House to Add Wealth
By and
Case adds to claims that president violates emoluments clauses

AGs plan to seek access to his unreleased income tax returns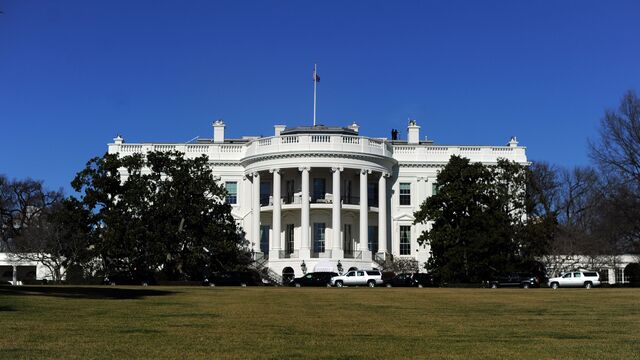 President Donald Trump 's continued financial stake in his global business empire violates the U.S. Constitution's limits on profiting from his office, Maryland and the District of Columbia said in a federal lawsuit.
Their complaint, filed Monday in Greenbelt, Maryland, says Trump is violating two provisions of the U.S. Constitution, one barring compensation from foreign governments without Congressional approval and the other banning payments from federal and state governments. Trump's failure to cut ties with the Trump Organization placed him in violation of those provisions as soon as he took his oath of office, according to the lawsuit.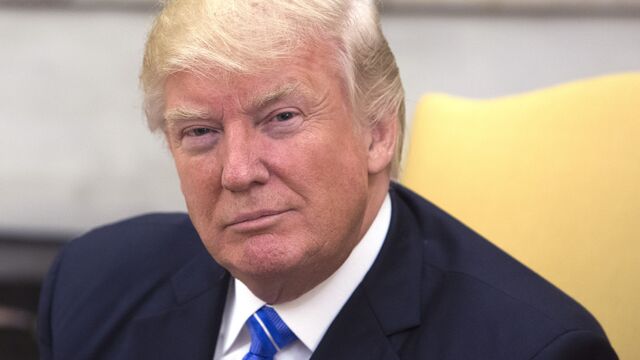 The suit is the first constitutional claim to be filed by a state government over Trump's alleged business conflicts, ratcheting up pressure on the billionaire president. Legal experts said Maryland and the District of Columbia have a better chance of having their claims considered by a court than non-government organizations. And it opens up another front in the battle, as Trump must defend against the risk of court orders from judges in different jurisdictions.
"Never before has a president acted with such disregard for this constitutional prescription," D.C. Attorney General Karl Racine and Maryland's Brian Frosh said in their complaint seeking an order forcing Trump to divest from his businesses.
"We will be seeking the president's financial information, including his tax returns," Frosh said at a news conference. Trump broke with decades of precedent for presidential candidates and office holders by refusing to disclose his tax filings to the public.
Business Ties
Joining the AGs as outside counsel is the Washington watchdog group Citizens for Responsibility and Ethics in Washington, CREW, whose chairman, Norman Eisen, is a former ambassador and ethics adviser in Barack Obama's White House. CREW filed its own suit in Manhattan federal court in January making similar emoluments clause claims against Trump.
Trump's interests "do not violate the Emoluments Clause," White House Press Secretary Sean Spicer told reporters, adding that it's "not hard to conclude partisan politics may be behind the suit." Racine and Frosh are Democrats.
The lawsuit follows others that have attacked Trump's continued involvement in his businesses. Last week, the Justice Department argued the president is allowed to accept payments for goods and services for fair-market commercial transactions such as hotel bills, golf club fees and office rent. No court has directly ruled on how the two constitutional provisions relate to the president.
Prior to his Jan. 20 inauguration, Trump signed papers turning over the operation of his New York-based Trump Organization to his sons, Eric and Donald Jr., and Chief Financial Officer Allen Weisselberg. The president didn't fully relinquish his ownership stake.
Why 'Emoluments' Might Mean Headaches for Trump: QuickTake Q&A
Among the company's properties are the Trump International Hotel in Washington, which opened last year. In their complaint, the AGs claim that since the inauguration, the hotel has specifically targeted foreign diplomats' business.
"On one occasion, barely a week after the election, it held an event where it pitched the hotel to about 100 foreign diplomats," according to the newly filed complaint. "The hotel also hired a 'director of diplomatic sales' to facilitate business with foreign states and their diplomats and agents." Members of the Trump administration including Treasury Secretary Steve Mnuchin have taken up residence there.
Trump's DC hotel also allegedly draws business away from hotels and other businesses such as the National Harbor development south of Washington on Maryland's eastern shore, according to the complaint.
"This lawsuit brought against our president is absurd," Lindsay Jancek, a spokeswoman for the Republican National Committee, said in an email. "The American people elected President Trump to lead this country, and it is time Democrats end their efforts to delegitimize his presidency."
Critics of Trump's business ties say the state and D.C. may have a better chance than CREW and other private groups of establishing "standing," meaning they meet strict legal terms control who may bring a lawsuit through the courts.
"There is no other president whose domestic and foreign investments and entanglements have been so bound up with our policy and our interests and he is the only president who has refused to disclose the extent of his holdings and interests," Maryland AG Frosh said.
The case is District of Columbia v. Trump, 17-cv-1596, U.S. District Court, District of Maryland (Greenbelt).
— With assistance by Justin Sink
Before it's here, it's on the Bloomberg Terminal.
LEARN MORE