In Brief
Sessions to Testify, Mylan Faces Heat, Viking Pays Up
What you may have missed in the world of global business.
By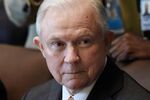 Viking Global Investors, the hedge fund firm founded by Andreas Halvorsen, is returning about $8 billion to investors as Chief Investment Officer Daniel Sundheim departs to pursue his own business interests. Sundheim, 40, who joined Viking as an analyst and rose through the ranks in his 15 years there, is leaving at the end of the month, according to a letter the firm sent to investors on Monday. Viking manages about $30 billion, making it one of the largest hedge funds in the world.
 
Mylan NV faces an increasing backlash over its handling of the EpiPen pricing controversy, as a top proxy adviser urged shareholders to oust the drugmaker's board. Institutional Shareholder Services Inc. said the company's directors had failed to stop "significant destruction in shareholder value." ISS took issue with Mylan's governance on a broad scale and faulted the board for making "egregious" decisions on pay. "All incumbent directors should be considered accountable for material failures of risk oversight over a number of years, when warning signs were available to the company but no actions appear to have been taken," ISS said in an emailed report.
 
 A second federal appeals court blocked President Donald Trump's revised travel ban even as he presses the Supreme Court to reinstate it. Monday's order by the U.S. Court of Appeals in San Francisco follows a May 25 ruling by a regional appeals court in Richmond, Va., that concluded Trump intended to discriminate against Muslims from the six countries he targeted in his executive order. The administration on June 1 asked the nation's highest court to let the ban take effect while the justices decide whether to review the Richmond ruling.
 
Attorney General Jeff Sessions will testify publicly on Tuesday before the Senate Intelligence Committee, a high-stakes event that comes days after fired FBI Director James Comey's dramatic appearance. The committee announced the hearing only minutes after the U.S. Department of Justice issued a statement saying Sessions wanted the event to be public. Several senators have said they want Sessions to explain his role in firing Comey and whether President Trump attempted to interfere with federal investigations into any of his associates.
Before it's here, it's on the Bloomberg Terminal.
LEARN MORE