Finnish Premier Faces Dwindling Options to Avoid Election
By and
Possible coalition configurations wane as election calls mount

Sipila targets forming new government as quickly as possible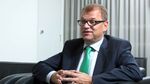 Finland's Prime Minister Juha Sipila could face a tight squeeze to avoid a snap election after the biggest opposition parties quickly ruled out giving him any help in the current political impasse.
Sipila put a new election into play on Monday after he and the National Coalition dumped their junior coalition partner, The Finns, in a bid to find a new majority in parliament. He was met with a cold shoulder from the biggest opposition groups: the Social Democrats and the Greens. The Left Alliance had been calling for a fresh vote since the weekend. 

That leaves the smaller Swedish People's Party and the Christian Democrats as alternatives, which would only produce a very narrow majority and provide a weak mandate for Sipila to complete key legislation just halfway through his four-year term. While Sipila has managed to turn the economy around, his party's support has been weighed down by scandals and unpopular decisions such as forcing through cuts in labor costs.
But Sipila played down the public rejection from most of the opposition, saying party leaders have been more "soft-spoken" in private.
"Finnish party leaders and parliamentary groups are interested in bearing responsibility," he told reporters at his residence in Helsinki late Monday. "We'll start the process" of forming a new ruling coalition "with our options open," he said.
The premier is reluctant to call a new election, with the most recent Yle poll showing his Center Party with backing of 18.4 percent, about 3 percentage points below its 2015 election result. National Coalition is up at 20.5 percent, while the Finns have lost almost half its backing with just 9 percent support in the Yle poll.
Erkka Railo, political scientist at the University of Turku, said the Center Party and the National Coalition will probably demand that their social and health-care and municipal reform agenda be accepted by their new partners.
"The Center Party will do everything it can to avoid new elections," Railo said.
The Swedish People's Party and the Christian Democrats, who together would give Sipila and Finance Minister Petteri Orpo the backing of 101 lawmakers in a parliament of 200, are both open to talks on joining government, their leaders told local media.
Finland plunged into a government crisis over the weekend when The Finns party took a step to the right, electing hard-liner Jussi Halla-aho as its chairman. Halla-aho's anti-Muslim rants, for which he was fined by Finland's top court, were too much to stomach for Sipila's and Orpo's parties. A two-hour meeting was enough to decide the trio couldn't work together.
Read more on The Finns' upheaval here
Sipila will "probably" make a formal request to President Sauli Niinisto to dissolve the government after lawmakers discuss the issue within their parliamentary groups first. A meeting between the two is scheduled for 3 p.m. local time on Tuesday. Center and National Coalition Party lawmakers on Monday approved the proposal to dissolve the government and The Finns party is meeting at 1 p.m. Tuesday.
The Swedish People's Party is likely to demand a reversal of a decision to close down the emergency department of a hospital in their heartland and the Christian Democrats will seek to prevent the easing of alcohol laws that is being planned.
New elections would suit the Greens, who are polling at 15.1 percent, their highest ever, and the Social Democrats, who are keen to halt the government's social and health-care reform and redesign it with less privatization. That revamp and the municipal reform also underway are seen as key projects to ease the structural pressure caused by a rapidly aging population.
Before it's here, it's on the Bloomberg Terminal.
LEARN MORE