Evergrande Bond Rally Puts Lingering Leverage Worry in Focus
Bloomberg News
Leverage is weakest among China's top five developers: Moody's

Decline in leverage still doesn't make firm healthy: Mizuho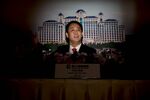 A rally in bonds of China's most-indebted developer has some analysts warning that steps to cut borrowings have yet to bring leverage down to healthy levels.
China Evergrande Group said Friday that it has agreed to sell its stake in China Vanke Co. for 29.2 billion yuan ($4.3 billion), freeing up cash as it cuts its debt load. That came after Evergrande raised 39.5 billion yuan selling a stake in a property unit on May 31. The builder also said last week that it plans to sell new bonds and exchange them with four sets of existing notes totaling $3.2 billion, and that it is accelerating a plan to cut its debt load by redeeming all perpetual securities by June 30.
While the property giant controlled by Chinese billionaire Hui Ka Yan has seen its bonds and stock rally in recent weeks, it still faces questions about its debt load. Evergrande's leverage will likely improve, but will remain high, said Franco Leung, an analyst at Moody's Investors Service. Its leverage is one of the highest among sizable Chinese developers, a concern amid the government's intensified crackdown on developer financing, according to Alan Jin, a property analyst at Mizuho Securities Asia Ltd. and Danielle Wang, China property analyst at DBS Vickers Hong Kong Ltd.
"It's a significant decline of leverage, but it doesn't make them healthy," Jin said, adding the positive effect of perpetual bond redemption may be overstated by the market. "Their debt burden is still very high."
Evergrande declined to comment.
Market Gains
Evergrande's 8.25 percent notes due in 2022 have risen to about 105.8 cents on the dollar from par, or 100 cents, when they were issued in March, according to data compiled by Bloomberg. The company's shares have rallied about 225 percent this year. They fell 3.3 percent at 2:27 p.m. in Hong Kong on Tuesday.
The gains reflect enthusiasm for the improvements, even if more remains to be done. Evergrande's proposed transfer of its share ownership in Vanke is credit positive for both Evergrande and Vanke, though their ratings will not be immediately affected, Moody's said in a press release on Tuesday. 
S&P Global Ratings said in a statement Tuesday that the impact of the transfer on overall leverage will "only be mildly credit positive" and that the amount Evergrande gets for the stake sale is not material compared with its adjusted total debt of 653 billion yuan as of Dec. 31, 2016. It added that its ratings on Evergrande are not affected by the sharesale.
Moody's had projected Evergrande's adjusted debt leverage, measured as a percentage of revenue to adjusted debt, will increase to between 55 percent and 60 percent over the next 12-18 months, from 32 percent at the end of December 2016. S&P expects its leverage multiple will decline to 10 to 12 times this year and next year, from 14.8 times in 2016.
Still, Evergrande's debt leverage as measured by revenue to adjusted debt will still be the weakest among the top five developers rated by Moody's as measured by contracted sales.
"The recent moves to de-leverage through stake sales and by paying off perpetual debt are creditor friendly," said Anne Zhang, executive director for fixed income, currencies and commodities at JPMorgan Private Bank in Asia. "Hopefully, they can continue down this track, because in the last few years, leverage has come up to a dangerous level."
— With assistance by Denise Wee, Lianting Tu, and Emma Dong
Before it's here, it's on the Bloomberg Terminal.
LEARN MORE