Pruitt had list of complaints, Germany's Hendricks says

German environment minister refutes criticism of Paris accord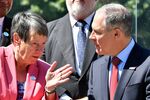 U.S. Environmental Protection Agency chief Scott Pruitt blamed former President Barack Obama for forging a bad Paris climate deal, leaving the U.S. with the job of extricating itself, the German environment minister said.
In a catalog of complaints, the EPA chief blasted Obama for failing to sign off with Congress for $3 billion in financing for the international Green Climate fund, German Environment Minister Barbara Hendricks said in an interview. She cited bilateral talks with Pruitt at a two-day Group of Seven climate summit held in Bologna, Italy on Sunday and Monday, which both officials left early.
The EPA chief's "line of argument was purely domestic," Hendricks said by phone Monday from Berlin. Pruitt said "bluntly" that the accord is not in U.S. interests, she said. Hendricks said she responded to his comments on Congress by arguing that Germany must seek parliamentary approval for annual payments to the Green Fund.
The summit, which wraps up today, has left Germany and its G-7 partners baffled as to how President Donald Trump plans to sustain climate protection in the international arena, Hendricks said. The U.S. is set to join its six partners in upholding a commitment to cut carbon dioxide emissions, "but Pruitt didn't say one word on how he envisages the future of international climate policy and the role of the U.S. in it," she said.
Having helped forge the Paris treaty text in 2015 that now has attracted about 200 signatory nations, Hendricks said she felt a "personal affront to her honor" from Trump's assertion that the accord was created to harm the U.S.
Before it's here, it's on the Bloomberg Terminal.
LEARN MORE