Derivatives Lobby Sends Brexit Warning as EU Mulls Clearing
By
ISDA survey shows initial margin increasing as much as 20%

European Commission plans to issue clearing proposals Tuesday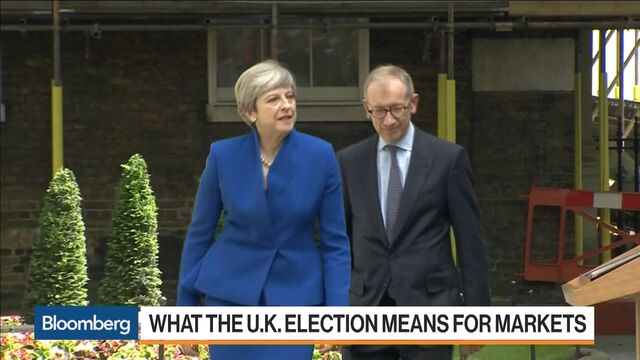 The forced relocation of euro clearing to the European Union after Brexit would drive up costs, a derivatives-industry group said as policy makers in Brussels prepare to retake control of the London-dominated business.
In a June 8 letter to Valdis Dombrovskis, the EU's financial-services policy chief, the International Swaps and Derivatives Association said a survey of data from 11 banks showed that requiring euro-denominated interest-rate derivatives to be cleared by an EU-based clearinghouse would boost initial margin by as much as 20 percent.
Forced relocation "would also likely increase capital requirements for EU firms," ISDA chief executive Scott O'Malia said in a statement. "These costs will undoubtedly feed through to clients in both the U.K. and EU, making it more expensive for them to hedge their risk. It is not inappropriate for the EU to have a suitable oversight role, and I am hopeful that EU and U.K. regulatory authorities will come to an agreement on oversight."
The clearing issue has become a flash point in the Brexit debate, with London firms set to escape the reach of EU supervisors. The European Commission plans to issue legislative proposals about clearing on Tuesday. 
Last month, the EU's executive arm floated measures to protect against financial-stability risks posed by clearinghouses outside the bloc that play a "systemic role" in its markets. This could mean "enhanced" EU supervision of major U.K. firms, including London Stock Exchange Group Plc, that clear as much as 75 percent of euro-denominated interest-rate derivatives. The commission said it could also require clearing to take place inside the bloc.
Financial Stability
The industry has piled on the pressure since the commission aired its initial plans. The FIA, a trade organization for the futures, options and centrally cleared derivatives markets, has said forced relocation "could nearly double margin requirements from $83 billion to $160 billion."
Clearinghouses stand between the two sides of a derivative wager and hold collateral, known as margin, from both in case a member defaults.
Executive Board member Benoit Coeure said the European Central Bank "has a stake in that discussion insofar as financial stability is concerned, and insofar as monetary transmission is concerned, and we have a statutory role as central bank of issue for euro-denominated transactions.
"But when it comes to requirements which will become hard-wired into European law, do we need location, that's for the Commission to have a say, that's not for us to decide," he said.
In the letter released on Monday, ISDA said a location policy on clearing could "heighten financial stability concerns" and "lead to financial and commercial risks going unhedged, as end users struggle to get connected to a new CCP, impeding EU investment."
The industry group said the EU shouldn't adopt a legislative proposal setting out a clearinghouse location policy "before a public consultation and thorough impact assessment has been conducted."
While ISDA's survey estimated the overall increase in margin to be in the range of 15 percent to 20 percent, the impact could be greater for some banks. Some larger clearing members have reported up to a 54 percent impact on initial margin, the association said.
A European Commission spokeswoman declined to comment on the letter.
Before it's here, it's on the Bloomberg Terminal.
LEARN MORE