technology
Venmo Killer? Banks Roll Out Faster P2P Payments With Zelle
By
More than 30 banks have signed up to be part of the system

Capital One will be first to offer the new brand in its app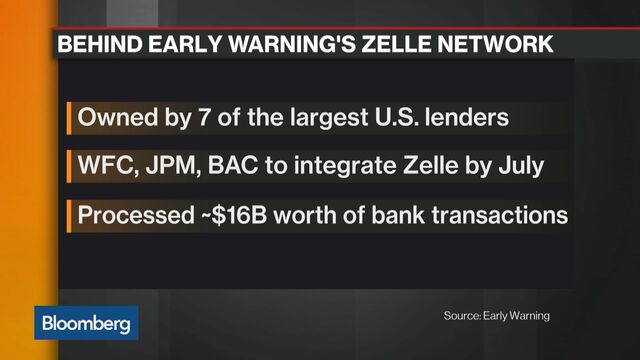 A coalition of financial firms across the U.S. is finally ready to instantly beam your cash to friends, family and businesses.
More than 30 U.S. banks and credit unions are unveiling a unified service to customers this week, called Zelle, after years of watching Silicon Valley innovators such as PayPal Inc.'s Venmo, Square Inc. and Apple Inc. build peer-to-peer payment systems. It will supplant a patchwork of products the biggest banks have offered their customers for years. This time, the service is faster and so broad that chances are it already has your money.
Across the nation, about 86 million mobile-banking customers will soon see Zelle logos in the apps managing their accounts, according to a statement Monday from Early Warning Services, a bank-owned risk-management firm that oversees the network. The Zelle symbol looks like a cross between a Z and a dollar sign. On many devices, a button may urge users to "Send money with Zelle."
Millennials embraced person-to-person payments as an easy way to split dinner fare or pay rent. Starting next week, financial institutions will start to educate customers about other possible uses, including paying a babysitter or buying a table for a group at a charity event, in the hope that the service will cut down on the 1 billion cash and check payments banks process each year, said Lou Anne Alexander, group president of payments at Early Warning.
"You'll start to hear things that make consumers recognize this is far more than splitting the bar bill," Alexander said. "This is really about moving P2P from millennial to mainstream."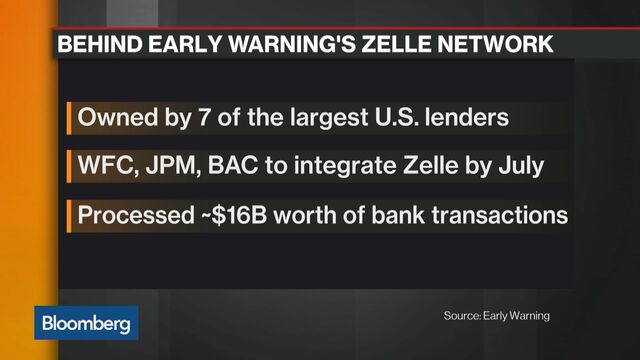 PayPal was among the worst performers Monday in the 69-company S&P 500 Information Technology Index, falling 2.5 percent to $52.08 at 12:08 p.m. in New York. Earlier in the day, the stock dropped as low as $51.43, the biggest intraday decline since January.
More ways to pay your pals: How the apps stack up
In the months to come, partnerships with Visa Inc. and Mastercard Inc. will let virtually anyone with a U.S. debit card use Zelle as well, even if their bank isn't among the dozens participating in the rollout. Those customers will have to use a standalone Zelle app.
To be sure, big banks including JPMorgan Chase & Co., Bank of America Corp. and Wells Fargo & Co. have offered their own customers P2P capabilities for years. And the network has been quietly moving cash in the background for a while. In the first quarter, banks on the Zelle network processed more than 51 million such transactions, totaling $16 billion.
The difference now is that customers can send money in real-time through a much wider array of institutions.
"The combination of that speed and the safety and security of knowing that it's being facilitated by financial institutions" is important to customers, said Mark Monaco, head of enterprise payments at Bank of America. "You get the convenience of P2P payments with the security that banks offer."
Adding Banks
Early Warning is owned by seven of the largest U.S. lenders. Other financial institutions are signing on to help create a united front against tech firms that have been pushing into their domain. PayPal's Venmo already is popular among millennials, who appreciate the platform's social-media features. And Apple said last week it will debut a P2P service within its iMessage app this year.
Capital One Financial Corp. will be the first lender to offer Zelle-branded P2P payments within its app, Early Warning said. Wells Fargo, JPMorgan, Bank of America and U.S. Bancorp will integrate the service into their own offerings before the end of the month.
About a dozen regional and community banks have signed up since April to be part of the network. Zelle also has inked partnerships with payment processors including Fiserv Inc., Fidelity National Information Services Inc. and Jack Henry & Associates Inc., which Early Warning says will let more small banks and credit unions easily connect to the service.
"We do have the opportunity to switch people from other P2P products," said Brett Pitts, head of digital for virtual channels at Wells Fargo. "The bigger opportunity that I'm excited about its getting lots and lots of people who aren't using P2P to start using Zelle."
(
Updates with PayPal share decline in sixth paragraph.
)
Before it's here, it's on the Bloomberg Terminal.
LEARN MORE