Brazil's Temer Rides Out Crisis as Allies Prefer Status Quo
By and
Temer's largest ally to decide Monday whether to stay or leave

Support for flagship pension reform has declined after crisis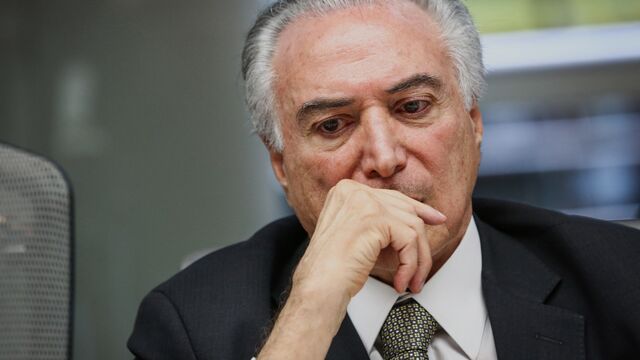 Three weeks after an explosive corruption scandal rocked Latin America's largest nation, Brazilian President Michel Temer looks poised to hang on to power, albeit with his political capital severely depleted.

The most immediate threat to Temer came to an end on Friday when the electoral court acquitted him of illegally financing his 2014 election campaign. A guilty verdict would have forced him to step down, throwing Brazil further into disarray.
Following an initial selloff markets have stood relatively still throughout the latest crisis, as investors struggle to gauge whether Temer is more of an asset or liability in passing crucial reforms through Congress this year. Even after new allegations of foul play by Temer's government, the real gained 0.55 percent in early Monday trading.
"It looks like he'll survive but he'll never fully recover the political capital he had," said Thomaz Favaro, associate director for Brazil and the Southern Cone at Control Risks consultancy. "He will have to downsize his reform agenda."
Many of Temer's allies, weakened by corruption allegations and reluctant to destabilize further Brazil's already rattled political establishment, are now less likely to abandon the president. The largest coalition partner, the PSDB party, scheduled a meeting for Monday at which it is expected to discuss support for the government's economic measures and decide whether to keep its cabinet posts.
"I'm in favor of not leaving," said the PSDB's deputy leader in the lower house," Luiz Carlos Hauly. "It doesn't help much to exit now and leave behind 14 million unemployed."
Temer's aides believe he already has enough votes to bar a possible impeachment process or an indictment by the Supreme Court should the prosecutor-general file charges against him, according to a cabinet member who tracks the government's votes in Congress. By law, a two-thirds majority is needed in the Chamber of Deputies for impeachment proceedings to begin or for the Supreme Court to put a sitting president on trial.

But that was before news magazine Veja reported on Saturday that Temer ordered the country's intelligence service to pry into the life of Supreme Court Judge Edson Fachin, who is in charge of the ongoing corruption investigation dubbed Carwash, which has targeted the president along with numerous other political and business figures.
Even though Temer quickly denied the report, Supreme Court Justice Carmen Lucia Rocha issued a harsh statement calling for a thorough investigation and likening the alleged practice to that of dictatorships.
Status Quo
There are plenty of other reasons why legislators facing elections next year would want to abandon the 76 year-old constitutional lawyer. Aside from his highly unpopular austerity program, the president's approval rating hovers in the single digits and he has now been swept up into an epic corruption scandal that has already locked up dozens of business executives and politicians.
Yet many prefer the status quo due to a lack of consensus on a Temer replacement, uncertainty about what a newcomer might mean for economic recovery, and the fear of retaliation against deserters.
"The logic is that it's better to keep your head down because of what they may know about you," said Senator Jose Medeiros of the PSD party, a mid-sized party in Temer's ruling coalition. "We pull Temer out and put who in his place?" he said about the lack of obvious alternatives.
Temer's aides have threatened to withdraw support for PSDB members in next year's election if they abandon him, according to a presidential aide who asked not to be named because the talks were not public. Other allies are intimidated by the prospect of challenging the president's party, known as the PMDB, and the largest in the country.
"You don't want to jump ship only to see that it didn't sink and then die drowning yourself," said Luis Covatti, a lawmaker from the allied Progressive Party.
Vladimir Caramaschi, chief strategist of CA Indosuez, said that any relief in markets in reaction to Friday's electoral court ruling "will not be long-lasting" because of a series of threats the government still faces.
After last year's rally, equity and currency markets have lost some steam as the Temer administration faced growing challenges to fix the country's public coffers, including an ambitious cap on pension outlays.
Temer has repeatedly denied any wrongdoing and insisted that he won't resign. But he risks being implicated in further scandals. In addition to this weekend's spying allegations, last week the president had to acknowledge reports he got a lift on a private jet owned by the same businessman who accused him of a cover up and authorizing the payment of hush money.
Also standing tall is the risk of plea bargain testimony from former aides arrested in recent weeks. One of them is Rodrigo Rocha Loures, a legislator who prosecutors suspect acted as a criminal operator on the president's behalf. The fear is he may strike a plea bargain agreement, offering testimony against the president in return for leniency, according to a presidential aide who requested anonymity.
"There will be new plea bargains, and more companies investigated, that generates uncertainty that the market hates," said Renato Nobile, CEO of Bullmark Financial Group.
"Pessimism is high among investors."
— With assistance by Ana Carolina Siedschlag, and Patricia Lara
Before it's here, it's on the Bloomberg Terminal.
LEARN MORE