Saudi-led Alliance to Ease Curbs on Some Qatari Families
By and
Three countries have set up hotlines to deal with cases

Decision comes after U.S. called for easing of sanctions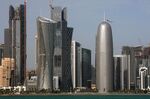 Saudi Arabia, the United Arab Emirates and Bahrain said they'll make some exceptions on humanitarian grounds to the expulsion of Qataris.
Restrictions will be eased for Qataris married to citizens of the three countries. Hotlines have been set up to review cases, according to statements carried by the Saudi, Emirati and Bahraini news agencies.
All Qatari nationals living in Saudi Arabia, Bahrain and the U.A.E. were ordered to leave within 14 days after their host countries cut ties with Qatar last week and closed off all land, sea and air travel links. The Saudi-led alliance accused Qatar's leaders of undermining efforts to curtail Iran's regional influence and supporting extremist groups, charges Qatar denies.
The order is complicating the lives of many Qatari citizens, who before this dispute were able to live anywhere within the six-nation Gulf Cooperation Council without restrictions. Family ties run deep in the Gulf, where tribes intermarried long before borders were drawn between the energy-rich nations. The U.A.E. imposed travel restrictions on Qatari passport-holders and citizens of other nations who have Qatari residence permits.
U.S. Secretary of State Rex Tillerson called on the coalition to ease Qatar's isolation. The curbs, he said, have forced families to uproot themselves and pull their children from school.
"The President of the U.A.E., has taken into account the humanitarian cases of U.A.E. and Qatar joint families," the official WAM news agency reported on Sunday.
Before it's here, it's on the Bloomberg Terminal.
LEARN MORE