U.K.'s May to Face Angry Lawmakers in Test of Strength
By , , and
Premier in showdown with her party after election debacle

Brexit Secretary: 'I'm a 100 percent unswerving supporter'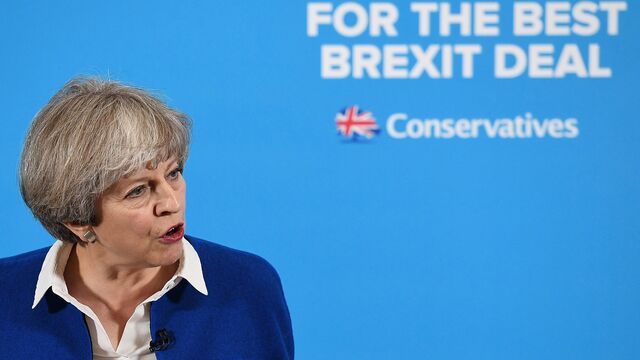 A day after she was forced to promote prominent Brexit hardliners in her bid to cling to power, U.K. Prime Minister Theresa May is set to face furious lawmakers from her Conservative Party in a showdown that could signal the end of her premiership.
May, who chairs a meeting of her new Cabinet on Monday morning, will hear first-hand the anger of Conservative members of Parliament who blame her for the catastrophic election campaign that saw the Tories unexpectedly lose their parliamentary majority. Graham Brady, the lawmaker who heads the backbench 1922 committee of rank-and-file Tory lawmakers, said "there will be lots of colleagues wanting to air their concerns."
"Her MPs could call time on her premiership at any moment," said Mujtaba Rahman, managing director at the Eurasia Group. 'More likely, however, is that she would avoid such humiliation, bow to the inevitable and announce her resignation."
Unhappy as the Tories are with May, the prospect of a lengthy leadership contest and fresh elections is even less appealing. That explains why in public senior figures and potential contenders such as Foreign Secretary Boris Johnson have rallied to her side as a fresh battle emerges over who will negotiate Brexit, with May only nominally in charge.
Questions over Theresa May's leadership are "unbelievably self-indulgent," Brexit Secretary David Davis said on Monday in an ITV interview. "It's a complete waste of people's time."
Old Nemesis
May's plans have been thrown into chaos along with the U.K.'s entire political landscape following Thursday's vote. The premier was unable to carry out wholesale cabinet changes that had been mooted before the election, with most ministers staying in the same jobs.
May named Michael Gove, who unsuccessfully ran against her for the party leadership last year and whom she then fired from the Ministry of Justice, as her new environment secretary. She also appointed leadership challenger, Andrea Leadsom, to leader of the House of Commons, putting her in charge of pushing Brexit-heavy legislation through Parliament.
Yet she did promote her close friend, Damian Green, to first secretary of state, making a Remain campaigner her second in command in an indication that May could be preparing to soften her Brexit stance.
May appeared to acknowledge her time was limited, when she was asked if she would stay in her post until the next election, scheduled to be held in 2022.
"I said during the election campaign that if re-elected I would intend to serve a full term," she told Sky Television on Sunday evening in her official London residence. "But what I'm doing now is actually getting on with the immediate job -- and I think that's what's important."
May's Weakness
One sign of May's weakness is the appointment of Gove, who ran for the Tory leadership in the wake of the Brexit referendum after betraying an earlier agreement to back Johnson.
A rift between Gove and May developed during the premier's time in the Home Office and his in the Department for Education in David Cameron's coalition government and she fired him when she became prime minister. As one of the leading cheerleaders for Brexit, Gove will now have to unravel the complex end to EU subsidies for Britain's farmers.
"I'm pleased that people from across the party have agreed to serve in my Cabinet and we're going to be getting on with the job of Government," May said. The public "want to see government providing that certainty and stability at what is a critical time for the country."
Fox said May was "positive" in his meeting with her on Sunday and backed her to see through the two years of Brexit talks, which are due to begin in a week.
'Absolute Faith'
"It's time for the whole of the Conservative Party to rally behind the prime minister," Fox told Sky News. "I have absolute faith in her, I think she's the best person to take this country forward."
QuickTake Hung Parliament: What Happens Now?
The cabinet appointments followed a night of chaos over May's bid for an agreement with Northern Ireland's Democratic Unionist Party to support her government. Her office was forced to admit it hadn't achieved a final deal just hours after announcing that it had.
May will meet with DUP leader Arlene Foster in London on Tuesday as she seeks to secure the support of the party's 10 lawmakers for her program, making up for the Tories' nine-seat shortfall in the Commons. The Conservatives will be unable to pass controversial legislation without the DUP, the only minor party willing to countenance backing May.
May will drop a series of pledges from the Tory manifesto which it would be too difficult to get through parliament, The Daily Mail reported late on Sunday, without saying where it got the information. Protected increases in payments to retirees and fuel subsidies for the elderly will be maintained and an expansion of selective education scrapped, the paper said.
All the changes, appointments and public intimations of support may not save the prime minister, according to one former cabinet colleague.
"Theresa May is a dead woman walking," George Osborne, whom May fired as chancellor of the exchequer and who now edits London's Evening Standard newspaper, told BBC Television. "It's just how long she's going to remain on death row."
— With assistance by Robert Hutton
Before it's here, it's on the Bloomberg Terminal.
LEARN MORE