Photographer: Justin Chin/Bloomberg
Economics
Hong Kong Cozies Up to Shenzhen to Create Future Tech Giants
By and
Two cities agree to build tech park in disputed border zone

Hong Kong trying to keep up as Chinese cities forge ahead
It's the story of an obscure fishing community that was afforded special trading status and grew to become one of the world's most vibrant economic centers.
Then came competition. Just upriver, an even more obscure fishing community was afforded special trading status and soon grew to become one of the world's most vibrant economic centers.
The first was Hong Kong, which rose rapidly after being made a free port in the mid 19th century, becoming a model for free-market capitalism by the time of its return to China 20 years ago. In the past two decades, it has watched the dazzling rise of Shenzhen, just across the Sham Chun River.
Now, officials in Hong Kong have an ambitious proposal to link the two via a technology park on a disputed swamp by the border that aims to revitalize Hong Kong's sagging economy and add fuel to Shenzhen's nascent startup boom.

The proposed 87-hectare park, called the Lok Ma Chau Loop, is the largest proposal of its kind by Hong Kong and is being pitched as an incubator for future tech giants. The idea is that tenants would be close to Shenzhen's cheaper manufacturing and innovation, while retaining Hong Kong's legal and business framework and internet freedom, with eased border crossings between the two.

The plan says as much about the changing roles of the two cities as it does about Hong Kong's aspirations to be a technology womb.
Shenzhen is pivoting from its legacy as ground zero for China's manufacturing boom into a center for research, development and production of advanced technology. Hong Kong is trying to diversify from old staples such as banking and real estate as revenue streams in shipping and tourism slacken.
"Hong Kong has to do this," said Albert Wong, chief executive officer of Hong Kong Science and Technology Parks Corp., the government agency that runs the city's biggest existing technology park and startup incubators. "It's not an option."
Sitting in his office at the city's lush science park, half way between the border and the financial center, Wong maps out a vision that doesn't lack for ambition. He wants to more than double the number of researchers and developers at HKSTP to 20,000 over the next five years.

The Loop is key to that expansion. The park would be built on land that was part of China until the government straightened the Sham Chun River in the 1990s to reduce flooding, effectively moving the border. The marshy area enclosed by the loop of the old river course remained disputed and undeveloped -- an area of wetland for otters and migrating birds -- until an agreement in January by the two governments to build the tech park.
The accord reflects a wider plan by China to bind together Hong Kong and Macau with cities in Guangdong -- an almost contiguous urban area of more than 60 million people. Think of all the cities on the eastern U.S. seaboard from Boston to Washington, plus the San Francisco Bay Area rolled into one.
For Wong and other proponents of the Loop, Hong Kong would be the San Francisco to Shenzhen's Silicon Valley in the new "Bay Area" of the Pearl River Delta.
It's an attractive idea for entrepreneur Song Li, a former executive director of equity derivatives products at Morgan Stanley. Li founded Zhenai.com, an online dating service, which says it has more than 120 million registered members. Though he works in Shenzhen, Li prefers to live in Hong Kong, with a two-and-a-half-hour round trip commute. An office in the Loop would cut that in half, he says.

Another supporter of a combined technology area in the Pearl River Delta is Tencent chairman Pony Ma Huateng, head of the most valuable company on the Hong Kong Stock Exchange. China "has the ability to create a world-class tech Bay Area, and preside over the global tech revolution of the future," Ma said in March, adding that the technology areas could help maintain stability in the former colony.
Hong Kong certainly needs the boost. Since Britain handed back its former possession, the city has played a diminishing role as the gateway to China and a financial hub. Its container port, which once vied with Singapore as the world's busiest, has fallen to fifth, overtaken by both Shanghai and Shenzhen.
An aging population and widening inequality are stirring political discontent. The city's economy is growing at less than half the rate it did in the decades up to 2015. Citizens are saving less and borrowing more, and few young people can afford the sky-high price of a new apartment, even one the size of a family car.
Read more about Hong Kong's housing debt
"The world has changed and Hong Kong needs to change again," said Nicholas Yang, the government's minister responsible for technology and innovation.
Government efforts to foster innovation in the city have been mixed. Its Cyberport business park proposed in 1999 came under criticism when most of the project was developed as apartments, while many of the offices remained empty for years.
"The problem is that on one hand property is too expensive for grassroots innovation, and on the other, when the government gets involved it tends to be over-planned and engineered,'' said Antony Dapiran, a Hong Kong-based corporate lawyer and author of an upcoming book "City of Protest: A Recent History of Dissent in Hong Kong."
The idea for closer integration with Shenzhen isn't new. Pro-China think tank Bauhinia Foundation has been urging stronger links with Guangdong for a decade. But many Hong Kongers are increasingly concerned that closer ties with the mainland would erode the freedom the city was promised as part of the "one country, two systems" agreement when Britain handed back the territory.

Meanwhile, Shenzhen forged ahead, clearing out most of its old, labor-intensive factories and building high-tech giants like Huawei Technologies Co. and ZTE Corp. The city's Nanshan district is a cradle for more than 8,000 technology firms, centered around the vast Shenzhen Hi-Tech Industrial Park, known as SHIP. Entrepreneurs have come from across the world, leading some to question why Guangdong needs to collaborate with Hong Kong on innovation.

"That ship has sailed,'' said Felix Chung, chairman of Hong Kong's pro-business Liberal Party. "The plan could have been good 10 years ago but have you seen Shenzhen lately? It has the ability to do so much on its own."
Critics say the tech park would take at least seven years to build, by which time Shenzhen may have pulled even further ahead. The Hong Kong government has not given a timetable or an estimated cost for completion of the project.
Hong Kong does have advantages, such as lower income taxes, relative security of capital and rule of law, said Nisa Leung, a veteran health-care investor at Qiming Venture Partners and a board member of the Hong Kong Science Park. Chung said the city can make its mark in value-added services such as intellectual property protection or helping Chinese companies build international divisions.
And the Pearl of the Orient still holds a strong lifestyle appeal for many entrepreneurs, despite the high rents.
"I like to be able to meet smart people from all around the world, having great internet, the exercising options and access to nature," said Frenchman Benjamin Joffe, who works for a fund that invests in hardware startups. He moved to Hong Kong after living in Shenzhen and Tokyo in recent years. "I split my time between Hong Kong, Shenzhen and the world." 
 
Watch This Next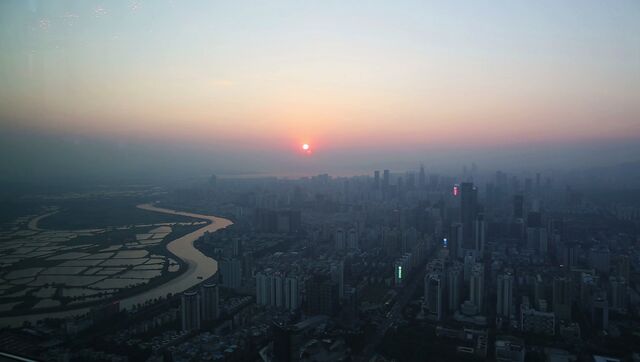 — With assistance by Xiaoqing Pi, Richard Frost, Lulu Yilun Chen, Yue Qiu, and Hannah Dormido
Before it's here, it's on the Bloomberg Terminal.
LEARN MORE