Five Things You Need to Know to Start Your Day
Get caught up on what's moving markets in Asia.
By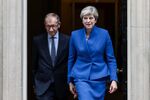 Want to receive this post in your inbox every morning? Sign up here.
Theresa May scrambles for support, French election shows huge majority in store for Macron's party, and Persian Gulf spat shows small signs of thawing. Here are some of the things people in markets are talking about.
Mayhem
The snap election that backfired on Prime Minister Theresa May has sent the leader scrambling in a bid to shore up support as some of her ministers devise plans for a softer Brexit that sees the U.K. retain more ties with the E.U. On Saturday, May's office said it had "agreed to the principles of an outline agreement" with Northern Ireland's Democratic Unionist Party — only to walk back that statement hours later. The prime minister will meet with the DUP leader in London on Tuesday to attempt to nail down the support of its 10 seats to secure her ability to form a government. May also gave prominent positions to some of her Tory rivals as part of a small cabinet reshuffle. The election aftermath only adds to the uncertainty weighing on the U.K. economy as Brexit negotiations loom.
Macron Momentum
French President Emmanuel Macron's year-old party is poised to win a clear legislative majority in the lower house of parliament based on projections following the first round of voting on Sunday. The surprisingly strong result for Republic on the Move bolsters the new leader's ability to make good on campaign pledges, such as reforming the nation's labor code. If no single candidate in a constituency won a majority of votes on Sunday, a run-off election on June 18 will decide the winner among candidates who amassed more than 12.5 percent of registered voters. U.K. Prime Minister Theresa May is slated to meet with Macron in France Tuesday to prepare for Brexit nations.
GCC Detente
Kuwait's foreign minister, mediator of the spat in the Gulf region, said Qatar was "ready to understand" its neighboring states' concerns, a signal that talks on a resolution could be in the offing. The bleeding hasn't stopped for Qatari assets following a Saudi-led alliance's move to isolate the country. The country's main bourse suffered its worst weekly showing since December 2014, while bonds and currency forwards also came under pressure. S&P Global Ratings soothed any fears about financial-collapse scenarios, judging that the nation's banks could survive even if funds from all other Gulf nations disappeared.
Conundrum Redux
Even though the Fed is nearly unanimously expected to hike interest rates this Wednesday, Wall Street strategists have trimmed their estimates for how high 10-year Treasury yields will be at year-end. Analysts expect the 10-year Treasury to yield 2.7 percent at the close of 2017 — about 50 basis points higher than current levels. Long-term yields have stubbornly refused to follow short-term policy rates higher, an echo of former Fed Chair Alan Greenspan's so-called conundrum during the tightening cycle that started in 2004. Strategists at Bank of America Merrill Lynch recently suggested that the so-called disconnect between stocks and bonds was a byproduct of an immense appetite for corporate debt that has served as a key source of pressure on yields.
Coming Up…
A double dose of Japanese data kicks off the day's economic calendar in the Asia Pacific region at 8:50 a.m. Tokyo time. Machine orders are forecast to rise 0.5 percent month-on-month following March's rise of 1.4 percent; the annual rate of producer-price inflation, meanwhile, is projected to inch higher to 2.2 percent. India's consumer-price inflation is expected to slow to an annual rate of 2.43 percent in May from just shy of 3 percent in April. Last week, the Reserve Bank of India cut its forecast for inflation while keeping its key interest rate unchanged. April's reading of industrial production in India is expected to tick higher to annual growth of 2.8 percent. Also on deck: the April edition of retail sales in Singapore, projected to rise 1.5 percent on a monthly basis on the heels of March's 0.3 percent retreat. China's monthly lending figures, which have no pre-set release day, may also come.
What we've been reading
This is what caught our eye over the last 24 hours.
Quotes from this Article
Before it's here, it's on the Bloomberg Terminal.
LEARN MORE