France Elects Parliament as Macron Aims to Consolidate Power
By
Pollsters project clear majority for Macron's party, REM

President commands political center with year-old movement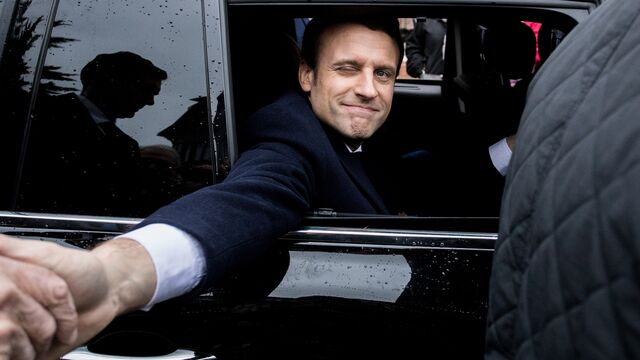 Voters in France began choosing lawmakers today in a two-stage election that will determine how much power new President Emmanuel Macron will actually have. If polls are to be believed, it will be a lot.
The latest surveys suggest Macron's Republic on the Move movement, or REM, will win a comfortable majority in the 577-seat National Assembly, allowing him to push through his plans to loosen French labor laws and simplify its tax system.

The 39-year-old Macron was elected in May after creating a centrist political movement that took millions of votes away from the two parties that have dominated French politics for decades. During one month in office, he's further weakened the Socialist Party and the center-right Republicans by poaching some of their leading members for cabinet positions.
"Macron is shaping up as hyper-presidency, with a very strong central authority," said Dominique Reynie, a politics professor at Sciences Po institute in Paris. "He's got a party that he founded and fully controls. He's got opposition parties that risk fragmenting."
Sunday's ballot is for 539 seats in France. Voting has already closed in 27 constituencies for France's overseas territories and another 11 to represent French expats. Voting started at 8 a.m. Paris time and most polling booths will close at 6 p.m., though local prefects can continue until 8 p.m. The interior ministry said that 40.75 percent of registered voters had cast ballots by 5 p.m. in France. In 2012, about 59 percent of registered voters went to the polls.

Little will be settled Sunday night.
Under France's two-round system for the parliamentary elections, any candidate with more than 12.5 percent of the registered voters goes through to runoffs on June 18, so long as no one gets 50 percent on Sunday. In the previous election five years ago, only 36, or about 6 percent, of the constituencies were settled in the first round.
Historic Majorities
Pollsters such as Edouard Lecerf, director of political-opinion research at Kantar Public in Paris, said most Macron candidates who make it through to the second round will be favorites because their centrist appeal enables them to scoop up votes from eliminated candidates, whether on the right or the left.
After the decisive second round, REM and its allies should have between 397 and 427 seats, well above the 289 needed for a majority, with the Republicans next at between 95 and 115 seats, said Ipsos. Other pollsters show REM with comfortable but slightly less overwhelming majorities.
Those projections suggest Macron may approach the historic majorities of the Fifth Republic -- former President Jacques Chirac's center-right party won 398 seats in 2002 and 472 in 1993. But Chirac faced a united Socialist party holding most of the rest of the legislature, whereas Macron's opposition looks set to be split among several parties all facing internal problems after a bruising presidential campaign.
Still, Macron's Prime Minister Edouard Philippe said he wasn't taking anything for granted.
"I'm not in the habit of expecting anything out of elections because you always risk getting ugly surprises," he said on Europe1 radio Friday.
— With assistance by Alan Katz
Before it's here, it's on the Bloomberg Terminal.
LEARN MORE