Your Evening Briefing
Bloomberg News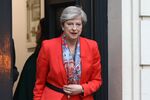 Theresa May launched a desperate fightback to hold on to her premiership after her gamble to call an early election backfired spectacularly, casting doubt over the government's makeup as well as the direction and timing of negotiations on leaving the European Union. As a result, the pound tumbled the most since October. Both May and Labor leader Jeremy Corbyn laid a claim to govern after the election resulted in a so-called hung Parliament, where no party commands a majority. Faced with calls to resign, May has moved fast to bolster her position. She held talks Friday morning with Northern Ireland's Democratic Unionist Party, reaching a quick understanding before planning to seek Queen Elizabeth II's permission to form a government. If you're still confused about the current state of play, check out our Q&A on what it means to have a hung parliament. — Brent O'Brien

Alibaba's Jack Ma got $2.8 billion richer overnight after his company forecast sales growth that topped every analyst's estimate. Shares in Alibaba rose 13 percent to a record high. Ma, 52, is now the richest person in Asia and the 14th wealthiest in the world, according to the Bloomberg Billionaires Index.

The U.K. election came at a cost to another one of Asia's richest men. Li Ka-shing's CK Hutchison Holdings and Cheung Kong Infrastructure Holdings were among the biggest losers in Hong Kong trading, as the slumping pound cut the value of the companies' U.K. earnings.
A case of he said, he said. Ousted FBI chief James Comey and President Donald Trump accused each other of lying about their private encounters in the wake of Comey's dramatic Senate testimony that centered on whether the president sought to quash part of a federal probe into Russian meddling in the 2016 election. Lawmakers now must determine whether Comey's testimony shows that Trump crossed any legal boundaries. 
Singapore's economic rebound isn't as good as it seems. After two years of subpar growth, economists and even the government are becoming more positive about Singapore's growth outlook. But good news is masking pain on the ground. Consumer spending has contracted for two straight quarters, unemployment is rising, wage growth is slowing and household debt is increasing.
Someone bet half a million dollars on oil surging to $80 by year's end. As Brent crude oil closed on Wednesday at its lowest level since before OPEC and other nations agreed to cut output, someone purchased options to buy 10 million barrels of Brent crude for $80 a barrel in December.
Visit Japan's iconic fish market, while you still can. If you're planning a trip to Tokyo, chances are you've been told not to miss Tsukiji, the oldest and biggest fish market in the world. It's a place synonymous with the nation's famous food culture, and the spot where a single Bluefin tuna sold for $632,000 in January. But you'd best hurry, its fate remains as muddy as the waters in Tokyo Bay.
The fascinating history of the Rolex Oyster bracelet. That bit that goes around your wrist is celebrating its 70th anniversary this year. Rolex's process of incremental improvements have made sure that the Oyster bracelet continued to be the most functional around, with almost invisible touch-ups through the years. (Warning: we're about to get real, real geeky.)

Before it's here, it's on the Bloomberg Terminal.
LEARN MORE