With Zames Gone, Race to Succeed Dimon at JPMorgan Is Wide Open
By
Former chief operating officer joins Staley, Winters, Scharf

Erdoes, Pinto, Smith and Lake seen as candidates for CEO spot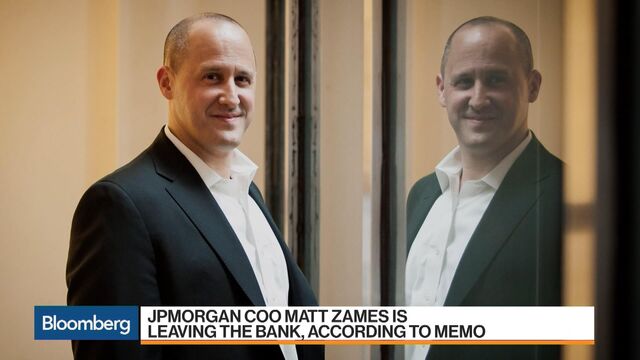 Ever since JPMorgan Chase & Co. elevated Matt Zames to co-chief operating officer in 2012, the former hedge fund trader was viewed as a potential heir to Chief Executive Officer Jamie Dimon.

The speculation ended Thursday, when Zames said he'll leave the bank because he wants to run his own business. With that, Zames, 46, joined the ranks of possible successors Dimon has outlasted, including Jes Staley, Bill Winters, Charles Scharf and Frank Bisignano, former top executives at JPMorgan who moved on to become CEOs at other banks and finance companies.
Dimon, who's 61 and has held the top job since 2005, has said he'd like to stay at New York-based JPMorgan for another five years or so -- and he's joked he'll keep saying that until the day he leaves. Dimon himself was pushed out at Citigroup Inc. two decades ago because then-CEO Sandy Weill wasn't ready to let him take charge, Weill told the New York Times in 2010.
In his annual letter for 2009, Dimon emphasized the importance of maintaining a pipeline of people who could take over if necessary. Companies have been destroyed by poor succession planning, which "often seems more like a psychological drama or a Shakespearean tragedy," Dimon wrote.
Joseph Evangelisti, a spokesman for the bank, declined to comment on Dimon's possible successors.
So who's next in line now that Zames is gone? Here are some candidates:

Mary Callahan Erdoes
Title: Asset & Wealth Management CEO
Age: 49
Erdoes has risen through the ranks since joining JPMorgan in 1996. Her division, which she's run since 2009, earned a record $3.5 billion in pretax income last year, which has grown at an annualized rate of 7 percent for the past five years, according to the bank's annual report. It's responsible for just 12 percent of JPMorgan's revenue, though. She was awarded $19 million in compensation for 2016, tying her for second place among named executives after Dimon, who got $28 million. One negative indicator: When Dimon shuffled management in the wake of the bank's London Whale trading scandal, the younger Zames was promoted instead of her.

Daniel E. Pinto
Title: Corporate & Investment Bank CEO
Age: 54
Pinto advanced through the trading side of JPMorgan and is now responsible for businesses that generate 35 percent of the bank's revenue. Like Erdoes, he was paid $19 million for 2016. Based in London, he was promoted to sole head of his unit in 2014, when Michael Cavanagh left. He's a native of Argentina.

Gordon A. Smith
Title: Consumer & Community Banking CEO
Age: 58
Smith joined JPMorgan in 2007 from American Express Co. and initially ran the company's credit-card services business before being promoted in the same 2012 shakeup that elevated Zames. His division turned in $9.7 billion in 2016 profit, or 38 percent of the firm's total, second only to the investment bank. Under his stewardship, the bank refreshed its credit-card franchise, with last August's introduction of the Sapphire Reserve card garnering so much interest that the firm temporarily ran out of materials to produce it. The card's inducements also shaved hundreds of millions of dollars from profit. A potential drawback: Smith is just three years younger than Dimon, a gap that might be too narrow for the board to see him as a long-term successor.

Marianne Lake
Title: Chief Financial Officer
Age: 47
As CFO, Lake is well-known to investors and analysts, speaking about the bank's results on quarterly earnings calls. Dimon has turned over much of the responsibility for them to her. In 2013, she told Marie Claire that her office was right next door to Dimon's and they spoke several times a day. An accountant educated in England, she served as controller and CFO for some of the bank's units before assuming her current role in 2013. Lake, who hasn't run any of JPMorgan's businesses, was paid $12.5 million for 2016.
— With assistance by Dakin Campbell, and Hugh Son
Before it's here, it's on the Bloomberg Terminal.
LEARN MORE