What to Expect From Brazil's Top Electoral Court Ruling
By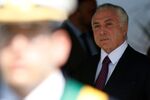 Brazil's top electoral court may reach a decision as early as Friday on allegations that the winners of the 2014 election benefited from illegal campaign financing, a ruling that could force President Michel Temer out of office. The case began when the losing party filed a lawsuit against then President Dilma Rousseff and Vice President Temer with the top electoral authority, the TSE. The court resumed its deliberations on Tuesday and could rule as early as June 9. There are seven judges on the TSE, and a ruling requires the support of a majority.
What are the possible outcomes?
1. A request for more time:
Any one of the seven judges could demand more time to analyze the case. If they do so there is no deadline for the court to resume its deliberations.
2. Annulment of the Rousseff/Temer ticket:
The court may rule that the campaign was financed with illegal donations and both bear responsibility. Rousseff would lose her rights to run for political office for eight years, while Temer would be stripped of the presidency.
3. Separation of the Rousseff/Temer ticket:
The court may decide to judge Rousseff and Temer separately. As such, it may find one party guilty and exonerate the other, or it may rule that the two had differing levels of responsibility and administer its sentence accordingly.
4. Dismissal of case:
The court may absolve both Rousseff and Temer.
Would the defendants be able to appeal?
Either or both parties can appeal a decision directly with the TSE which would have to rule within three working days. If the TSE maintains the decision, they can appeal to the Supreme Court, which would have no deadline to make a judgement.
How soon could Temer lose the presidency?
If Temer's appeal fails at the TSE, he would have to stand down from the presidency. He could then appeal to the Supreme Court.
What happens if Temer goes?
If Temer is stripped of office, the Constitution determines that the president of the lower house, Rodrigo Maia, takes up the presidency for 30 days before Congress elects an interim president. This interim president would finish Temer's mandate, which runs until December 31 2018.
Before it's here, it's on the Bloomberg Terminal.
LEARN MORE