Cars
Haven't Heard of the Race of Gentlemen? Get the Sand Out of Your Ears
This vintage-themed car rally on the beach is one-of-a-kind, and once-in-a-lifetime.
By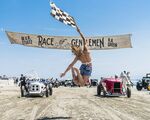 This weekend, the circus is coming to the beach.
Starting Friday night, more than 100 vintage motorbikes and cars are heading to Wildwood, N.J., for the annual Race of Gentlemen, a Mad Max-meets-Fast and Furious spectacle on the sands of the Atlantic Ocean. Think of it as the Burning Man version of the Goodwood Festival of Speed.
The whole thing, which features only pre-war cars and motorcycles, is called TROG for short. Which seems about right.

"It's set up like a 1940s carnival," said Allan Glanfield, a Canadian photographer who has shot the spectacle almost since its inception. "There are big tents of craftsmen and Harley-Davidsons and food. Everything is related to the era, and even the people are dressed appropriately. Step off the boardwalk and it's like you're right there in 1942."
Costumes run the gamut from Rockabilly style to pin-up and WWII looks. Races themselves are set in exhibition style in a straight line across a hard stretch of sand; starters in white jumpsuits or full tuxedos leap and wave bright flags for each heat. Racing starts once the tide goes out. (Gates open at 9 a.m.)

Only cars made prior to 1934 and motorcycles made before 1947 may enter. That means you'll see such things as a 1923 Ford T Roadster or a 1946 Harley-Davidson Knucklehead motorcycle. Many of the hot rods are compilations of old parts from various—sometimes unidentifiable—sources. Many fail to make it through the weekend without hard knocks: Sand caught in engines, pipes, filters, and pistons is never good.
"The coolest thing now is that it has gone from guys taking whatever bikes they had to guys purpose-building things over the winter," Glanfield said. "Things that meet the pre-war requirements but are actually fast."

In short: If you want to hear loud engines all day, screaming down the sand, this is the place.
The best way to maximize the experience is to go early and often. Friday night features a big welcome party. Saturday has casual racing and an evening bonfire with live music. Sunday sees the most earnest racing and the final that determines the weekend's trophy winners. Tickets cost $50 for full access all weekend, or pay $35 on Saturday and $20 on Sunday.   
Go for the crazy cars or to join a rag-tag band of bandits. You'll find both. Dogs are allowed, too—even better if they know circus tricks.

Before it's here, it's on the Bloomberg Terminal.
LEARN MORE