U.K. Pollsters Put Their Misses — And Hits — Down to Turnout
Good night for an experimental model predicting hung Parliament
By
Good night for Survation, YouGov and Curtice's exit poll

Bad night for other pollsters and campaign strategists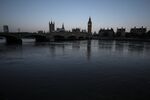 It was the turnout models that did it. That's the view of the winners and losers of Britain's other big battle of Thursday night -- between the polling companies.
For Survation, it was a night of celebration. Its final poll slightly underestimated the Conservative vote, but gave a pretty good picture of what was coming. YouGov Plc hedged its bets, publishing a vote share model that showed Theresa May widening her lead in the final stretch, but also a prediction of seats that correctly forecast a hung Parliament.

Others had a less happy evening. ICM had given May's Tory party a 12 percentage-point lead over Jeremy Corbyn's Labour. The actual gap was less than 3 points. The pollster wasn't alone. ComRes had a 10-point gap, Ipsos-Mori 8 points and Opinium 7 points. The early explanation was how they assessed the likelihood that people would actually vote.
"I've had better mornings," ICM's director, Martin Boon, said on Friday afternoon. "The turnout model clearly didn't work. It pushed the Tory lead out by 2 or 3 points. It's not the only cause, but it's probably the main one."

Boon said ICM's model used research that showed which groups were least likely to vote, and which were most likely, and assigned a probability to interviewees accordingly. The least likely to vote were low-income 18-24-year-olds, while wealthy older people were the most probable. 

Read more: Eight Nerds, a Sealed Room and One Big British Political Secret

Damian Lyons Lowe of Survation said his rivals' problem was that they didn't trust their own data. "My rivals did a really good job of correcting the actual problem that was identified after 2015, the problem of getting a good sample," he said in a telephone interview. "Their figures before turnout were correct. But then they retrofitted about 8 points to the Tories, which is just dumb."
"It comes down to how you model and deal with the issue of turnout," said Joe Twyman, head of political polling at YouGov. "That still remains difficult for the industry. We decided we were going to be driven by the data, rather than the historical precedent."
During the campaign, not a single poll put Labour ahead. That, at least, turned out to be correct. But British pollsters have always had one problem: overestimating Labour's vote. This election, for the first time, saw them underestimate it, by as much as 7 points.
If Boon and his colleagues are feeling sore, they can take comfort that they weren't the only ones caught out. Labour staffers and lawmakers expected to lose seats.

And when YouGov published its seat estimates, Jim Messina, a former White House deputy chief of staff who was advising the Tories, publicly mocked it. "Spent the day laughing at yet another stupid poll from .@yougov," he tweeted.
But for fans of electoral nerds, there was relief that Britain's nerd-in-chief, John Curtice of Strathclyde University, was vindicated once again with his exit poll, which was doubted when it was published as the polls closed on Thursday.

It got within five seats of the final result.
Before it's here, it's on the Bloomberg Terminal.
LEARN MORE