Trump Repackages Council as `New' in Infrastructure Plan
By
Congress authorized council in 2015 and Obama implemented it

Previous presidents also have tried to accelerate reviews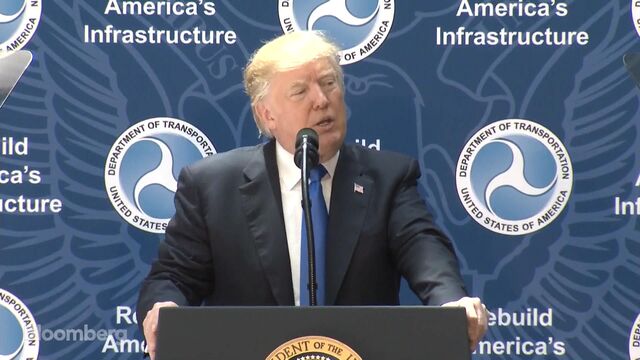 The "new council" that President Donald Trump announced on Friday to streamline regulatory reviews for infrastructure projects isn't actually new.
After Trump's speech at the Department of Transportation, the White House confirmed that he was referring to the Federal Permitting Improvement Steering Council, which was authorized by Congress in 2015 and implemented by President Barack Obama. But the panel hasn't been living up to its potential, said White House spokeswoman Natalie Strom.
"We are setting up a new council to help project managers navigate the bureaucratic maze," Trump said earlier. "This council will also improve transparency by creating a new online dashboard allowing everyone to easily track major projects through every stage of the approval process."
A dashboard was also created under the Obama administration and has been online for months.
The Trump administration plans to improve on the dashboard, a senior White House official said in a conference call with reporters on Friday. While the council already existed, it didn't have permanent staff. The Trump administration has since added staff, and a council meeting is set for next week, the official said.
Trump's speech capped a week of events aimed at promoting his plan to use $200 billion in federal funds to leverage investment in the nation's crumbling infrastructure. The efforts to garner support for the initiative have been largely overshadowed by the Senate testimony of fired FBI director James Comey, who said the president had intimated that he should drop an investigation into former National Security Adviser Michael Flynn.
The Federal Permitting Improvement Steering Council was created as part of the highway bill passed by Congress in December 2015. The panel coordinates the work of different agencies to streamline project reviews and approvals. Richard Kidd IV, whom Obama named to lead the council from July until Trump took office on Jan. 20, previously told Bloomberg News that the new administration should fill his position quickly. An acting executive director filed a report to Congress in April, according to the council's website.
Trump also said Friday he would create a new White House office to "clarify lines of authority" among agencies in the review process. The idea is similar to something the president called for in an executive order he issued after taking office, and in March, the White House convened a working group of federal agencies to target policies, regulations and statutes.
Senators Rob Portman, a Republican from Ohio, and Claire McCaskill, a Missouri Democrat, who co-sponsored the Federal Permitting Improvement Act as part of the highway bill, sent a letter to Trump on June 8 urging him to name a new executive director and to make better use of the streamlining provisions passed by Congress. They said, "it is perplexing that the administration has not taken full advantage of the powerful tools Congress gave it."
The senators also said Trump's executive order "appears to duplicate or conflict with" many of the provisions enacted by Congress.
"We have heard from numerous stakeholders that the executive order is confusing and makes the permitting process even more complex -- the exact opposite result of what seems to have been intended," the letter said.
Trump's Week
With Washington focused on Comey's testimony, the administration had declared this week "infrastructure week." Besides today's event, he endorsed turning the U.S. air-traffic control system over to a private, non-profit corporation, gave a speech in Ohio on Wednesday, and invited governors and mayors to the White House on Thursday for a "listening session.''
But the administration didn't release many more specifics this week about how it plans to fund $200 billion in direct federal spending over 10 years to leverage at least $800 billion in spending by states, localities and the private sector with incentives and other inducements.
The White House posted a fact sheet on Thursday showing that of the $200 billion in federal spending, $25 billion would go for rural infrastructure, $15 billion for "transformative projects," and $100 billion for "local prioritization of infrastructure needs." It offered no other details, including plans for the remaining $60 billion, but said the numbers are preliminary and subject to negotiation.
Trump is calling on Democrats to join Republicans in supporting an infrastructure plan, and Vice President Mike Pence told governors and mayors on Thursday that "rebuilding America is a bipartisan enterprise.'' But Democrats have been openly hostile to the outline of Trump's plan.
'Bridge to Nowhere'
Of the eight governors and nine mayors on the list of attendees at Thursday's listening session, only one -- Columbus Mayor Andrew Ginther -- was a Democrat. Senate Democratic Leader Chuck Schumer, who once talked about working with Trump, now calls the plan a "bridge to nowhere.''
There has been bipartisan support for the idea of reducing the bureaucracy in environmental reviews and permitting that slows down and even scuttles projects.
"If you said to a state, 'Hey, instead of a dollar of federal funding with all the regulations that come with it, we'll give you 80 cents, which would you take?' the states would all take the 80 cents and skip the regulations because they could get projects done better, faster for our citizens,'' North Dakota Governor Doug Burgum, a Republican, told reporters at the White House on Thursday.
Lengthy Reviews
During an April 4 event with chief executives in Washington, DJ Gribbin, special assistant to the president for infrastructure policy, showed a large flow-chart detailing what can be a 10- to 20-year process to get approvals for a federal highway with hundreds of permits from 17 agencies.
That chart was displayed at Friday's event at the Department of Transportation, and at one point, Trump picked up binders on the stage that were part of what he said were 70 pounds of an environmental report costing $29 million for an 18-mile Maryland road project.
"This massive permit reform -- and that's what it is, it's a permit reform -- doesn't sound glamorous," Trump said. "They won't write stories about it, they won't even talk about it, but it's so important.''
Speeding up reviews and permits is particularly important for private-sector investors, who have available capital but lack enough projects and certainty about deals, U.S. Secretary of Transportation Elaine Chao has said.
Even so, the past three presidents also focused on streamlining reviews, and it's unclear how much more can be done to accelerate approvals without changing the standards for review, and the federal government can't control state and local approvals when they are needed for projects, officials have said.
Democrats have urged the administration to focus on the streamlining provisions that have already been approved but not yet fully implemented and said the problem is really a lack of direct federal spending for projects.
"More and more 'streamlining' of review and permitting is not the answer to our infrastructure crisis nor the principal roadblock," said Oregon Representative Peter DeFazio, the top Democrat on the House Transportation and Infrastructure Committee. "When does the real infrastructure week start?"
Before it's here, it's on the Bloomberg Terminal.
LEARN MORE