Trump's Top Social Media Aide Reprimanded for Attacking Amash
By
Dan Scavino was found to have violated the Hatch Act

Tweet called for primary defeat of GOP lawmaker Justin Amash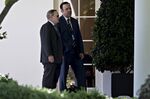 The aide who manages President Donald Trump's social media accounts was reprimanded after one of his own tweets was found to violate a law prohibiting federal employees from using their positions to engage in political activity.
In an April tweet, Dan Scavino -- a longtime Trump employee considered within the president's inner circle -- encouraged a primary challenge to Representative Justin Amash, a Michigan Republican who opposed the first version of legislation backed by the president to scale back Obamacare.
Amash "is a big liability," Scavino said in the tweet. "#TrumpTrain, defeat him in primary."
The tweet drew bipartisan condemnation. Richard Painter, the former chief ethics counsel to George W. Bush, said Scavino would have been fired in the last Republican White House.
The post was reported to the U.S. Office of Special Counsel, which monitors violations of the Hatch Act -- a law restricting political activity with government resources -- by Citizens for Responsibility and Ethics in Washington, an ethics watchdog organization.
Scavino was issued a warning letter and received counseling from White House attorneys following the infraction, according to a letter CREW received about the complaint and released on Friday.
"The rules are clear that government officials aren't allowed to use their position for campaign activity," CREW Executive Director Noah Bookbinder said in a statement. "OSC has made clear with this ruling that they are going to enforce these important rules and work to keep the government free from inappropriate politics."
The Office of Special Council said it had not observed further violations by Scavino since the post about Amash, but that the social media director had been warned that future violations would not be seen as inadvertent.
Since the controversy, Scavino has removed pictures of the White House from his personal Twitter account, which no longer references his employment within the administration. His biography section now calls the account a "Personal Twitter Handle."
The president ultimately decides punishments for Hatch Act violations, meaning that if Scavino runs afoul of the rules in the future, it will be up to Trump to decide his fate.
Two Cabinet officials were sanctioned for Hatch Act violations during the Obama administration.
Former Secretary of Health and Human Services Kathleen Sebelius ran afoul of the rule in 2012 when she told attendees at a Human Rights Campaign gala in North Carolina that re-electing Obama was "hugely important." Former Housing and Urban Development Secretary Julian Castro earned a rebuke when he praised Hillary Clinton and called Trump unfit for office during an interview taped at his department's headquarters.
Before it's here, it's on the Bloomberg Terminal.
LEARN MORE