Trump Can Take Payments From Foreign Governments, U.S. Says
By
Government says emoluments clause doesn't bar Trump businesses

Watchdog group sued president over payments to his companies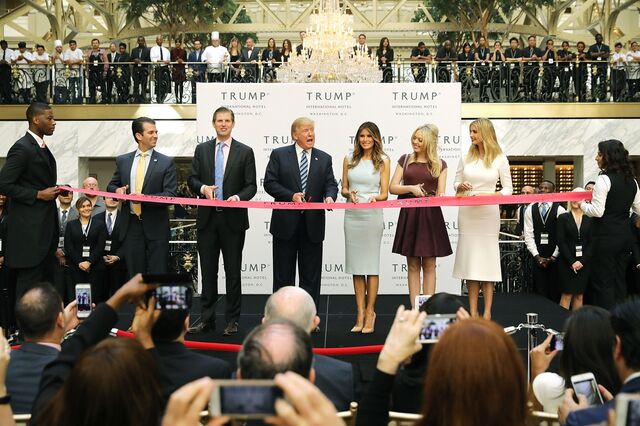 George Washington did it, so Donald Trump can, too.
That's the Justice Department's take on why the 45th president isn't violating the U.S. Constitution by accepting payments for goods and services from foreign governments without congressional approval.
The foreign emoluments clause of the Constitution doesn't apply to fair-market commercial transactions, such as hotel bills, golf club fees, licensing payments and office rent, the Justice department argued Friday in a filing. The government is asking a judge to throw out a lawsuit brought by a watchdog group that claims Trump's business dealings violate the Constitution.
If accepted by the court, the argument would eliminate a major legal obstacle for Trump's businesses to keep money from foreign officials and companies owned by foreign governments.
Citizens for Responsibility and Ethics in Washington, or CREW, sued Trump within days of his inauguration in January, claiming foreign officials are doing business with Trump properties as a way to curry favor with the president. The group is seeking an order from U.S. District Judge Ronnie Abrams in Manhattan that Trump is violating the foreign emoluments clause and the domestic emoluments clause, which specifically bars presidents from taking payments from federal or state officials.
George Washington
"Neither the text nor the history of the clauses shows that they were intended to reach benefits arising from a president's private business pursuits having nothing to do with his office or personal service to a foreign power," the government said in the filing. "Were plaintiffs' interpretation correct, presidents from the very beginning of the Republic, including George Washington, would have received prohibited 'emoluments.'"
The U.S. said Washington gave detailed instructions for the operation of his Mount Vernon plantation, and exported flour and cornmeal to England, Portugal and Jamaica while president. Thomas Jefferson exported tobacco to Great Britain. No concerns were raised over their receiving foreign emoluments. And Barack Obama received royalties on his books, many of which are held in the libraries of foreign public universities, according to the government.
The Justice Department also argued that CREW and the other plaintiffs in the case lack legal standing -- that they didn't suffer a sufficient legal harm to allow them to sue. This argument attacks the authority of the court to consider the case at all and could result in a quick dismissal of the case if accepted by the judge. The government also claims it would be unconstitutional for a judge to issue an injunction against the president in his official capacity.
'Heartily Disagree'
"It's clear from the government's response that they don't believe anyone can go to court to stop the president from systematically violating the constitution," CREW said in a statement. "We heartily disagree and look forward to our day in court."
As part of the suit, CREW seeks access to Trump's tax returns and other financial records. The group has said Trump should liquidate his business holdings and put the proceeds in a blind trust.
While presidents aren't subject to ethics laws that apply to other federal officeholders, most lawyers, including Trump's, agree that the foreign emoluments clause does apply to presidents. Courts haven't ruled on the question directly, but the Justice Department's Office of Legal Counsel in 2009 assumed that the clause applied to President Barack Obama but didn't bar him from accepting a Nobel Peace Prize.
Why 'Emoluments' Might Mean Headaches for Trump: QuickTake Q&A
Trump announced in January he would turn over operation of his businesses to his sons, Eric and Donald Jr., and Chief Financial Officer Allen Weisselberg. In addition, the Trump Organization vowed not to make any new business deals outside the U.S. while Trump is president. Critics including CREW, members of Congress and the director of the federal Office of Government Ethics said the plan failed to address conflicts of interest between Trump's roles as president and as a billionaire businessman.
In the original complaint, filed on Jan. 23, the first business day after Trump's inauguration, CREW targeted payments from diplomats and foreign government officials to Trump's hotels and golf courses. The group also challenged as improper Trump Tower leases by the Industrial & Commercial Bank of China Ltd. and the Abu Dhabi Tourism and Culture Authority.
CREW later added claims including China's granting of trademarks to the president and the federal government's decision to permit him to continue leasing the site of his Washington hotel despite claims he is in violation of the lease. CREW argued that since the election, the hotel has marketed to the diplomatic community and has taken money from countries including Saudi Arabia and Kuwait.
"Never before have the people of the United States elected a president with business interests as vast, complicated and secret as those of President Donald J. Trump," the group said in its amended complaint. His "business interests are creating countless conflicts of interest, as well as unprecedented influence by foreign governments," leading to "numerous" violations of the Constitution, according to the CREW complaint.
CREW also added plaintiffs who could shore up the group's legal standing to sue: a restaurant association representing 200 restaurants and thousands of workers; a luxury hotel event booker; and a New York restaurant owner. Democrats in Congress also plan to sue Trump over alleged conflicts of interest, Politico reported on June. 7.
The case is Citizens for Responsibility and Ethics in Washington v. Trump, 17-cv-00458, U.S. District Court, Southern District of New York (Manhattan).
Before it's here, it's on the Bloomberg Terminal.
LEARN MORE