Trump and Brexit Aren't Behind EU's Defense Drive, Leaders Say
By
EU members see need to defend themselves, Juncker says

NATO spending boost follows Crimea, uptick in terrorism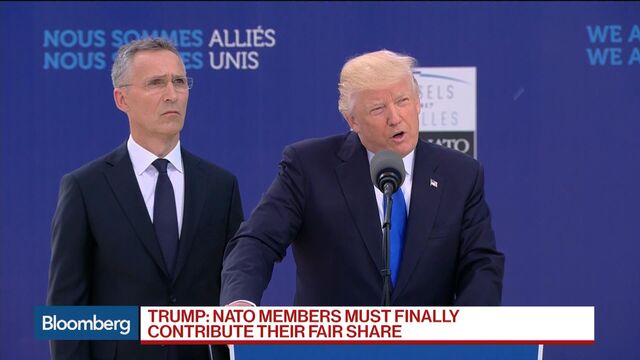 European Union countries are boosting their military capabilities because they've come to a consensus that they must defend themselves, leaders of the bloc said, dismissing the idea the they're filling a gap left by Brexit and Donald Trump.
European Commission President Jean-Claude Juncker told a security conference in the Czech capital that, while the North Atlantic Treaty Organization will remain a cornerstone of European security, a common EU force should complement it. He was backed by EU foreign policy chief Federica Mogherini, who said the shift in relations between the EU and its British-American allies isn't driving the change.
"If we're heading towards the European Union of security and defense, it is not because the U.K. is leaving the European Union or because of the shifts across the Atlantic," Mogherini said at the same conference. "We are doing this because we need it and we want it."
The push for increased military spending follows the EU executive's proposals this week for joint European defense as the bloc grapples with security threats including terrorist attacks, cyber warfare and the increasingly expansionist approach taken by Russian President Vladimir Putin. EU governments are showing readiness to increase military cooperation after the U.K. voted to leave the union and face criticism from the U.S. over lagging behind in defense spending.
'Sleeping Beauty'
After a decade of drawing down its Cold War presence in eastern Europe, NATO sent forces to Estonia, Latvia, Lithuania and Poland after those countries warned of potential conflict in the wake of Russia's 2014 annexation of Crimea from Ukraine. At the same time, the 29-nation military alliance's European members have intensified calls for stronger defense cooperation among themselves as disagreements between U.S. President Trump and the EU over trade, climate change, and military spending have strained ties.
In a speech in Brussels last month, Trump failed to explicitly endorse NATO's Article 5, which commits members to collective self defense. NATO Deputy Secretary General Rose Gottemoeller, who hails from the U.S., told the Prague forum that the alliance will remain as a guarantor of European security, but it "cannot do it all."

Juncker said "the tide is turning" among EU countries' approach to defense. Still, the European members who hit the target of spending at least 2 percent of gross domestic product on defense by the middle of next decade were limited to Estonia, Greece, Poland and the U.K. last year. The U.S. led in 2016 with defense expenditure of 3.61 percent of GDP.
"It's time to wake up the sleeping beauty," Juncker said. "War isn't a thing of the past."
— With assistance by Peter Laca, and Nikos Chrysoloras
Before it's here, it's on the Bloomberg Terminal.
LEARN MORE