Your Evening Briefing
Here are today's top stories
Bloomberg News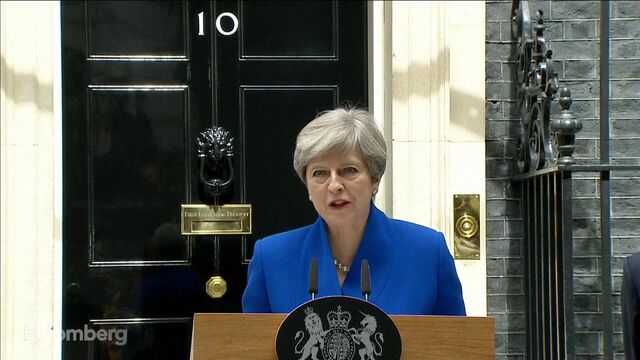 Want to receive this post in your inbox every afternoon? Sign up here.
Good afternoon. Theresa May has bought herself some time, forging a loose alliance after the U.K. elections. Jack Ma had a massive windfall. And Tesla's stock went into overdrive.
Have a good weekend. –Emily Banks
British millennials took revenge on their parents and grandparents. Angry young people were always going to be a wildcard in this election, and they may have helped cause another upset at Britain's polls. Brexit, along with spending cuts and paying for pensions, pitted the generations against each other. More U.K. millennials tried to register to vote ahead of the general election than before the Brexit referendum, in which their elders were the moving force in choosing a break from Europe.
Comey leaves Trump under a crippling "cloud." No salacious bomb came of Comey's Thursday hearing, as he mostly hewed to previously reported details. But calmly and carefully, the former FBI director accomplished something perhaps just as damaging. By neither exonerating nor convicting the president, Comey laid a road map of questions for the special counsel to follow in his criminal inquiry–a path it could take months, even years, to follow.
Jack Ma got $2.8 billion richer in one day, making him the richest person in Asia and the 14th wealthiest in the world, according to the Bloomberg Billionaires Index. His net worth has climbed $8.5 billion this year to $41.8 billion, and it  surged $2.8 billion this week as Alibaba forecast sales growth that topped every analyst's estimate, despite China's decelerating economy.
French President Emmanuel Macron is set to defy naysayers again. Pollsters project that his Republic on the Move party, known as REM in France, will emerge from Sunday's first round of legislative elections positioned for a comfortable majority in parliament. A month ago, that prospect looked unlikely. 
Tesla passed BMW in market cap. The electric-car maker climbed 1.4 percent Friday morning, boosting its market capitalization to $61.6 billion, about $280 million more than BMW. Tesla now ranks as the fourth-most valuable automaker, behind Toyota, Daimler and Volkswagen. Musk engendered more enthusiasm this week by reaffirming that Tesla's most affordable car yet will start production on time in July and be followed by a cheaper crossover.
Pandora is getting a $480 million investment from Sirius XM. It's also selling its Ticketfly business to Eventbrite for $200 million as the internet-radio pioneer tries to revive its business and find a possible buyer. The deals will help Oakland, California-based Pandora grapple with widening losses and a tepid outlook for its online music business.
"Basic economy" actually makes you pay more. Typically $15 to $30 lower than traditional economy, these tickets are designed to allow American, Delta, and United to better compete with ultra-low-cost carriers. While adding these new bargain-basement fares, carriers also raised prices on traditional economy seats. The strategy? If a consumer sees that there's an even lower class, they'll pay a little more for the next level up.
Quotes from this Article
Before it's here, it's on the Bloomberg Terminal.
LEARN MORE