The Tape Will Tell in Comey-Trump Feud, But Only If It Exists
By
President, fired FBI director at odds over their private talks

'Lordy, I hope there are tapes,' Comey says at Senate hearing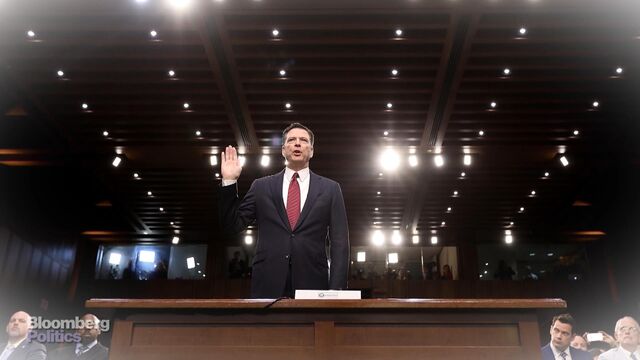 Only two people were in the room when Donald Trump allegedly asked James Comey for a pledge of loyalty, so no one else knows for sure what was said.
That is, unless the wish Comey expressed Thursday comes true.
"Lordy, I hope there are tapes," the since-fired FBI director told senators.

Comey put himself squarely at odds with Trump in characterizing their conversations over a three-month period. Comey said Trump urged him to end the FBI's investigation of former National Security Adviser Michael Flynn. Trump has said he did no such thing.
It's a discrepancy that a recording could resolve, if one exists. The possibility gained currency last month when Trump tweeted that Comey "better hope that there are no 'tapes' of our conversations."
Administration officials now aren't saying whether those conversations were indeed recorded. 
"I have no idea" if a taping system exists, White House spokeswoman Sarah Huckabee Sanders said Thursday.
The prospect of Trump tapes has conjured up memories of Richard Nixon, the disgraced former president who resigned in 1974. Nixon stepped down after the U.S. Supreme Court forced the release of secret Oval Office recordings, including one showing the president trying to squash an FBI investigation into the Watergate break-in.
QuickTake Q&A: Unwinding the Twists, Turns in Trump-Russia Probe
The only way to find out whether recordings exist may be through a request by Robert Mueller, the special counsel looking into the matter. If Mueller asks for tapes, the 8-0 Supreme Court ruling all but guarantees Trump would have to turn over whatever he has. The ruling rejected Nixon's claim of executive privilege.
Mueller is investigating possible collusion between the Trump campaign and Russians who were trying to influence the 2016 election. He potentially could also probe whether Trump sought to obstruct justice by trying to end the FBI investigation.
In Nixon's case, the tapes became public knowledge after White House aide Alexander Butterfield mentioned their existence in congressional testimony. With Trump, Democrats are relying on suspicions.
"It's awfully curious that no one from the president's team will either confirm or deny the existence of the tapes," Senate Democratic leader Chuck Schumer of New York said Thursday. "Mr. Trump, if you disagree with anything the director said today, play the tapes for all of America to hear or admit that there were no tapes."
'Next Question'
Trump and Comey are in conflict over several key issues. Those include Trump's blunt answer when asked at a May 18 news conference whether he had urged Comey to drop the Flynn investigation.
"No, no. Next question," the president said.
Comey told the Senate Intelligence Committee on Thursday that Trump's response wasn't accurate. He testified that Trump told him at a Feb. 14 Oval Office meeting, "I hope you can see your way clear to letting this go, to letting Flynn go."
The former FBI director said he interpreted that "as a direction to get rid of this investigation."
Comey said Trump sought the loyalty pledge at a Jan. 27 private dinner at the White House.
'I Expect Loyalty'
"The president said, 'I need loyalty, I expect loyalty,'" Comey said in written remarks. "I didn't move, speak, or change my facial expression in any way during the awkward silence that followed."
Trump's personal lawyer, Marc Kasowitz, disputed that account in a statement Thursday.
Trump "never told Mr. Comey, 'I need loyalty, I expect loyalty' in form or substance," Kasowitz said.
Comey took down his versions of the conversations in memos he said he wrote immediately afterward. Trump's suggestion of a White House tape was the reason Comey asked a friend to leak one of those memos to a reporter, the former FBI director said.
"It didn't dawn on me originally that there might be corroboration for our conversation," Comey said. "There might be a tape. And my judgment was, I needed to get that out into the public square."
— With assistance by Justin Sink
Before it's here, it's on the Bloomberg Terminal.
LEARN MORE