Sweden's Most Powerful Industrial Family Gets Ready for a Fight With 'the Butcher'
It's Round 2 for the Wallenbergs and Cevian, this time at Ericsson.
By and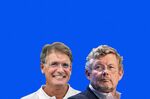 It's a 10-minute stroll from Christer Gardell's office overlooking leafy Humlegarden park in central Stockholm to Arsenalsgatan 8C, the headquarters of Investor AB, the finance arm of the legendary Wallenberg family. Like Investor Chairman Jacob Wallenberg, Gardell has built a strong reputation as a savvy backer of companies in need. And like Wallenberg, Gardell often targets industrial giants with roots in the Nordic region. But that's about as far as the similarities go. While Gardell's Cevian Capital seeks to shake up consensus-loving boardrooms across Europe, Wallenberg is an ultralong-term investor, thinking in decades and keeping a low profile.
For the second time in a year, Gardell is butting heads with the Wallenbergs, Swedish industry's most powerful family. In October, Wallenberg supported managers at ABB Ltd. as they fought off a breakup plan from Cevian. Today, Gardell is back for another round, this time at Ericsson AB, the troubled Swedish telecommunications gear maker that's been in Investor's portfolio since the 1930s.
Cevian on May 30 said it's spent more than $1 billion assembling a 5.6 percent stake in Ericsson, which has struggled in a battle with Nokia Oyj and Huawei Technologies Co. for the stagnant global market for base stations, switches, antennas, and other equipment used in mobile-phone networks. After disclosing the stake, Gardell said he supports a plan by new Ericsson Chief Executive Officer Borje Ekholm to exit unprofitable service contracts and potentially sell media holdings. But Gardell also said Ericsson had pursued a misguided strategy of indiscriminately seeking revenue growth and "at times bought bad businesses."
Although Gardell hasn't given much detail on his plans for Ericsson, his penchant for asset sales has led to speculation that he may seek more radical change. Ekholm, a former colleague of Gardell's at consultants McKinsey & Co. in the 1990s, is likely to face calls from Cevian to streamline the business and bolster earnings, which fell 87 percent in 2016 and are forecast by analysts to swing to a loss of almost $600 million this year. Gardell can be expected "to increase pressure on us to restore profitability," Ekholm wrote in a June 5 memo to employees. "We need to increase our sense of urgency as the current level of performance is not long-term sustainable."
Cevian, founded 15 years ago by Gardell and former private equity investment manager Lars Forberg, takes an approach similar to American activists such as Bill Ackman, David Einhorn, and Gardell's occasional tennis partner Carl Icahn. But like most other European firms, Cevian typically eschews public proxy fights—at least at first—and instead builds up a stake large enough to ensure that management is obliged to listen. On June 1, Gardell secured one of six slots on Ericsson's nomination committee, which proposes members to the board.
When behind-the-scenes pressure doesn't work, Gardell goes public. Shortly before the decision on ABB, Gardell released a document detailing Cevian's calculations of the value of the company's pieces in the event of a breakup—$80 billion, or about 60 percent above its market capitalization at the time. ABB argued it could realize more value without a big breakup. Gardell also lashed out at analysts who disagreed with him, saying they were parroting the company line. "Many analysts lack the competence to evaluate possible improvements of structures and corporate governance" at ABB, Gardell told Swedish daily Dagens Industri in September.
Gardell's aggressive activism has earned him the nickname "the Butcher" in the Swedish press. Whether calling him that is fair, he's the first to acknowledge that he's more interested in making money than friends, and he hasn't shied away from fights with governments, family owners, and unions. Taking on the Wallenbergs again would come with particular challenges. Cevian's stake in Ericsson is just shy of Investor's 5.9 percent. But Cevian's holdings are almost entirely Class B stock, while the Wallenbergs own mostly Class A shares, which have 10 times the voting rights. So Cevian has just under 3 percent of the vote, compared with almost 22 percent for the Wallenbergs. Investor says it welcomes Cevian's input and that it's not unusual for shareholders to have different visions for a company.
To prevail in any disagreement over strategy, Cevian would likely need Class A shares from the No. 3 owner, Industrivarden AB, controlled by billionaire Fredrik Lundberg. Industrivarden declined to comment on Cevian's holdings in Ericsson but says the two work together well at Volvo AB, where both control seats on the board.
Since taking over Ericsson in January, Ekholm has slashed the dividend, is cutting jobs and shedding lackluster businesses, and has said he'll focus on key technologies such as cloud computing and the next generation of mobile networking. He's also cautioned that he sees his timeline for success in years, not a few quarters—whereas Gardell likes to move fast. "That's the most efficient way of doing it, and it wears less on the organization," he says. For now, Gardell says Cevian's views on Ericsson match up with Investor's, despite their differences in style. The Wallenbergs "have a slightly slower pace," Gardell says. "We believe that you should drive change rather rapidly. But fundamentally, there's no difference."
 
—With Daniele Lepido
The bottom line: After failing to force a breakup of ABB, Christer Gardell could face another showdown with the Wallenberg family at Ericsson.
Before it's here, it's on the Bloomberg Terminal.
LEARN MORE